4 Essential Email Automations Every Membership Website Needs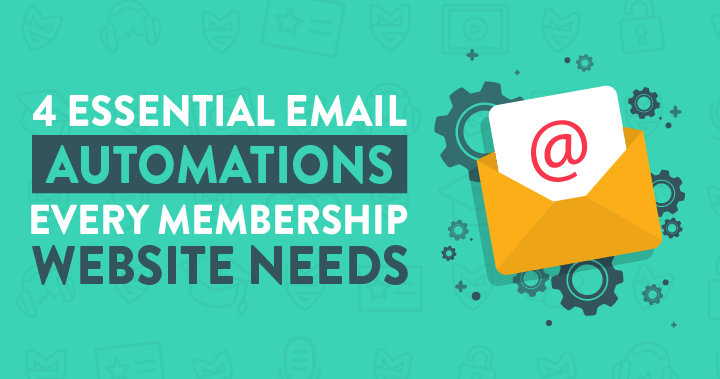 Email automation can massively power up the marketing of your membership site or online course; enabling you to trigger various different actions and email sequences according to how your leads and your customers behave.
If you've taken the step up from standard email marketing platforms like Aweber and Mailchimp (although you may be able to do some of the below sequences with these still), and you're utilising marketing automation software such as ActiveCampaign, ConvertKit, Ontraport or Keap (Infusionsoft) – then here are 4 automation sequences that will help beef up your email marketing.
1) Salvage your lost membership sales
If someone visits the checkout page of your site they're showing a clear buying signal, however if they don't go on to complete the transaction then this may mean there's a question or issue which needs to be addressed, an objection to overcome, or maybe they just got distracted or didn't have their payment details with them.
Whatever the case, it's well worth following up with these people, and fortunately this is something you can set up pretty easily with your email automation service.
It's simply a case of setting the conditions that trigger an automation to be when someone visits your checkout page URL without a subsequent visit to your thank you/confirmation page URL.
When someone on your mailing list meets these conditions, you can trigger an email sequence where you might mention that you noticed they didn't sign up and ask whether they have any questions or issues; or maybe you try to tempt them with a special offer.
You could trigger that follow up within hours of them visiting your checkout, or give it a few days for a softer approach.
2) New member onboarding
They say that first impressions count, and that's definitely true for your new members in terms of their initial experiences of using your membership site.
If you have a wealth of different types of content organised into different sections, and all sorts of other bells, whistles and features then it may be confusing or even overwhelming to someone who has just joined.
If someone cannot figure out how to use your site, where to start with your content, or worse if they have a slew of technical problems then it doesn't bode well for holding onto them long term.
Your member onboarding strategy should include on-site elements to help people get off to the right start, and you can also utilise email automation to compliment this too.
A short sequence sent over the first couple of weeks of a new members tenure with your site can go a long way.
If you can help ease your members transition into your site, give them a place to start, and even help them achieve some initial results with quick wins then it'll start things off on the right track in terms of retaining them as a paid member for months and years to come.
3) Automated subscription renewal reminders
This one likely won't apply to you if your members are paying you on a monthly basis; however if you offer an annual or quarterly option then it's a good idea to set up an automation that will automatically send out a reminder sequence prior to your members renewal date.
Even if your annual renewals are set to automatically rebill, because of the time involved people may have forgotten about their renewal date and as such get a nasty surprise when a chunk of cash disappears from their bank account.
Or worse, they're don't have sufficient available funds in their account so their membership ends up being cancelled.
You can create an automation so that when someone joins your site (and is presumably added to a "members" email list or segment) an email sequence is "queued" to start a couple of weeks before their renewal will be due.
So if they're joining on an annual plan, you'd set the sequence to start 340 days after they join your members list.
You could use this sequence to not only remind them of their upcoming renewal payment, but to also summarise just how much has been added to your site in the time they've been a member plus – more importantly – what's still to come if they continue their membership.
4) Winning back lapsed members
Members will inevitably leave your site, for a variety of reasons – some of which may be related to short term circumstances which may well change over time.
Rather than assuming that outgoing members are done with us for good, we can utilise automation to reach out to them further down the road when their situation may be different and they could be open to returning.
Most membership plugins integrate directly with email marketing providers, and in doing so will unsubscribe cancelling members from whichever email list you've set members to be a part of.
With email automation systems you can set up a "win back" email sequence, scheduled in for 2-3 months after someone has left your site, that is triggered when someone is removed from your members list.
Your sequence would likely be short, one or two emails at the most (since some ex-members may object to you contacting them too much after they've gone) – you could offer a "returning members" discount, let them know what's changed or what's been added to your site recently, or what's on the agenda for coming months; or just let them know they're missed!
There are a multitude of uses for marketing automation that can massively benefit your membership site or online course – however every membership site owner should be looking to implement the 4 automations discussed here.
Thank You For Listening
We really appreciate you chosing to listen to us and for supporting the podcast. If you enjoyed today's show, please share it using the social media buttons on this page.
We would also be eternally grateful if you would consider taking a minute or two to leave an honest review and rating for the show in iTunes. They're extremely helpful when it comes to reaching our audience and we read each and every one personally!
Finally, don't forget to subscribe to the podcast in iTunes to make sure that you never miss an episode