Negotiating Member-Only Perks and Special Offers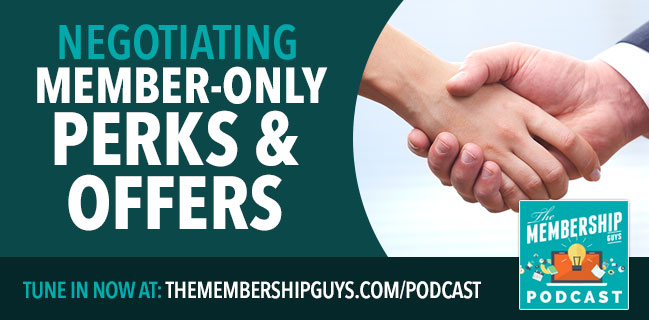 You know how your local grocery store has a points card that offers you discounts and special offers for shopping at their store exclusively?
You can extrapolate this idea and adapt it to your membership!
One of the things that we find works really well inside Membership Academy and for our more successful clients is to give members added bonuses or discounts that are exclusive to them and that they won't find anywhere else.
These perks can be in the form of freebies, discounts, exclusive access to tools or resources that they otherwise would not get.
If you save them some money on the content they are already paying for to cover or justify the cost of your membership, then this can be the tipping point to pressing your Join Now button!
They can be excellent add-ons that provide extra-value and makes your members feel special.
It really sweetens the deal for those who are on the fence about purchasing your membership.
Membership sites for software, equipment or physical products, almost any site can take advantage of this value-added service.
It's just a matter of sourcing the right vendor or partner and choosing the right offer.
The steps to landing a deal
How do you go about negotiating and landing those discounts?
We will share a strategy that works wonders for us with the Academy:
Our members use a variety of software to help them with the management and growth strategies of their own membership sites.
This includes things like membership site plug-ins and email marketing software.
Knowing this, we put our detective hats on and get to work.
Look for partners with affiliate programs
First, we look for related products that have affiliate programs.
Once we discover a program or product we think our members can benefit from, then we investigate further. We find out what the affiliate percentage is (this is the percentage commission you would get for each sign up).
Second, we approach the company with a proposal.
Would they be open to passing the value of our commission to our members as a sign-up discount?
If a software plug-in vendor offers a 10% affiliate commission, for example, we suggest that we use this 10% as a discount code for our members instead.
Brilliant, right?
It really can be a win-win situation.
We give the company new customers and they are not out of pocket by paying us commission.
Our members get a sweet discount on a tool they value and appreciate.
And we are genuinely satisfied that we provided our potential or existing members with a great deal they can use to grow their business.
You get what you give.  It's that simple.
We're happy.
The partner company is happy.
And our members are happy.
Happy dance time!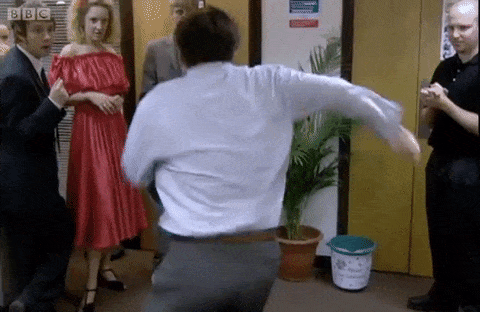 And sometimes, if you're lucky, companies are so impressed that you would be willing to forego their commission, they also sweeten their deal for you and provide you with a deeper discount PLUS a commission!
One word of caution: Do not expect this type of arrangement going into your negotiation!
Negotiate deals with physical product suppliers
This strategy doesn't only apply to SaaS products.
You can also approach vendors of physical products your members are interested in.
Guitars, music lessons, yarn and needles. You name it!
Seek these suppliers out and see if they are willing to negotiate a discount or forego something that they might pay you.
Stay open to alternative arrangements
What if you can't secure a permanent discount?
Sometimes you will find providers that really want to partner with you and offer a deal, but they are unable to due to technical challenges they have on the back-end or they may not offer permanent coupon codes.
But you can still partner with them and come to an arrangement that works.
See if you can find a way you can make it easy for a chosen partner to give you a discount you can pass on to your members, rather than making a commission.
You can offer free advertising on your website, providing their business with exposure to your audience.
And in exchange for the money they save on advertising expenses, you can request an exclusive discount for your members.
The goal is to pass along that foregone advertising revenue to your members.
You can arrange something like a limited time promotion that you limit to your members rather than sharing with your entire mailing list.
It's still an exclusive discount to your members and it satisfies your vendor because they are getting new business at no additional cost.
Take the time to get creative and to make it a no-brainer for the supplier to assist you in getting an offer together that your members will value.
And then communicate this perk in such a way that they realize they can't get this deal anywhere else.
Or you can promote it as an added benefit to being a part of your amazing membership site.
It is worth it to take the time and try to get any type of deal, promotion, or offer to your members. It just adds that little extra bit of value and helps differentiate your membership from what other people will be offering.