6 Simple Ways to Make Your Members Feel Extra Special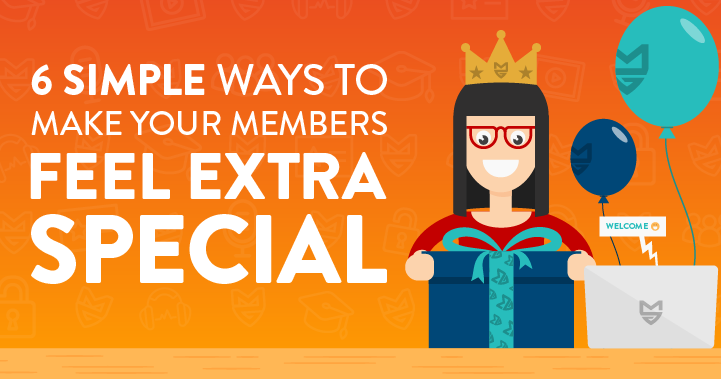 Subscribe to the Podcast Download Transcript
When it comes to running a membership, most people focus their attention on the content, community, or managing the business itself.
It makes sense, of course…
After all, that's what people sign up for…
And that's how you make money…
The thing is, you can have the best content in the world and a super slick platform to host your community…
But if your member experience isn't up to scratch then people just aren't going to engage.
They'll stop logging in, consuming your content and participating in your community…
Which ultimately means they'll be less likely to stick around long term…
And that's the last thing you want to happen…
So, what can you do to ensure you're delivering a fantastic member experience?
What it comes down to is making your members feel extra special and valued…
Here are six simple ways to do that…
1. Ensure all new members feel welcomed
A warm welcome can go a long way!
If you have a forum on your website, we'd recommend having an introduction section if you don't already…
And as part of your member onboarding process, you encourage all new members to introduce themselves to the community.
This gives you and your team the opportunity to step in there and personally welcome each and every person who joins your membership. 
This will give them a great first impression…
Particularly if they're joining the membership for access to you as the 'go to' person in your industry.
If you're the face of the membership, many new members won't expect you to be very active in the community…
So a quick personal hello can make the world of difference to their member experience. 
If you're not using a forum, you can do this is through a Facebook group…
Either by encouraging people to post their introduction…
Or hosting a day every week where new members come to introduce themselves.
Another way to make people feel welcome is via video…
If you run live streams or weekly videos, do a little shoutout to new members (by name) to acknowledge and welcome them.
If you really want to go one step further…
You could create and send personalized welcome videos using platforms like Bonjoro…
Or you could send welcome packs to new members…
This might be difficult to scale as you become a bigger membership…
But is still well worth exploring if you want to make your members feel good about joining.
2. Remember the little details of your members
Listening and remembering little details about your members can make them feel really special…
It shows that you're paying attention and you value them.
It doesn't have to be anything huge.
Let's say you do live Q&A calls, and someone turns up and asks a question….
This is a great time to throw in a little detail…
For example, you could mention where they're calling from, saying something like…
"Hey, if I remember rightly, you're from Australia. So, I know that this call's really early for you. Thanks so much for coming along."
That's it.
Something so simple, so trivial, can make all the difference.
They may not go wild with appreciation or sing songs in your honor…
But they will feel special.
If your memory sucks, don't worry…
If you're using software like Keap and Active Campaign for your email marketing…
You can put little notes about your members on their profile…
This is a handy way to jog your memory so you can pull out those little details when you need them. 
3. Loop members into conversations
This is a great way to get your members talking to each other…
If you remember where someone's from…
Or if a member has some specialized knowledge on a particular subject…
Get those other members involved. 
So, if someone asks you a question that you know someone else in your community can answer better…
Then go ahead and loop them in. 
You don't need to answer everything yourself…
Another member who knows the answer may just need a little prompt to join the conversation.
This shows that you're actively engaged in your community, you remember little details, and you value other members' opinions.
After all, everyone loves to feel validated, don't they? 
4. Reach out to missing members
Do you have those power members in your community who always contribute to discussions and help others?
They're a huge asset in online communities…
But what happens when they suddenly disappear?
Sometimes even the most active members will drop off and disappear for a while.
When this happens, don't just ignore it and move on…
While they don't owe you an explanation, it's nice to just get in touch and check in with them.
It doesn't have to be long…
Just something like…
"Hi, we noticed you haven't been around as much lately and just wanted to check-in and make sure everything's okay."
This shows that you care, and that the member is valued in the community.
Sometimes people just get out of the habit of logging in…
Reaching out could remind them…
Or if something's happened in their personal life that has meant your membership has taken a back seat…
You can simply wish them well.
If you're using a tool like Intercom, you can set it to flag up members who are slipping away by identifying those who haven't logged in for 30 days, 60 days, or more.
If there are any names on that list that jump out at you, don't be afraid to send them a quick message…
You can actually automate this process if you want to.
5. Celebrate their successes
Another way to make members feel special is to ask them to post about their progress and share their successes…
You want to cultivate a culture within your community of celebrating wins, big or small…
Create a section within your forum for members to easily share them…
This will encourage them to keep going and helps them feel supported.
And when they share their wins, leave a comment to congratulate them…
You can even share it publicly on social media to give them a shout out…
Brag about their wins and be proud of that…
This could be just the thing to motivate them to keep going…
And remember their successes reflect well on you too.
You can also host a member of the month celebration to shine a light on a member's success…
Or send gifts to members when they reach certain milestones…
This will go a long way in making your member experience a positive one.
6. Showcase members in your content marketing
On a similar note, those members who have seen success…
Try to get them involved in your content marketing….
If you run a podcast, a blog or live stream videos…
Invite your member to talk about their experience and successes…. 
It helps them feel special and a valued member of the community…
Interviewing them on a podcast will make them feel recognized and respected. 
This is a win win…
Because if you feature your members in your content…
It organically promotes your membership, simply by the fact that they're a member…
It shows real successes from real members.
And is great social proof for your membership. 
Making your members feel special really doesn't take that much work…
You don't have to pump money into it…
You don't have to spend hours strategizing about it…
You can just make some simple changes to the way you communicate with your community…
And add a few personal touches to their overall experience to really make a difference…
Just like the ones I've suggested above. 
It's hard to put a price on feeling special as a member…
But it can have a huge effect on their morale and motivation…
And your member retention and overall member satisfaction.
It's a no brainer!
Thank You For Listening
We really appreciate you chosing to listen to us and for supporting the podcast. If you enjoyed today's show, please share it using the social media buttons on this page.
We would also be eternally grateful if you would consider taking a minute or two to leave an honest review and rating for the show in iTunes. They're extremely helpful when it comes to reaching our audience and we read each and every one personally!
Finally, don't forget to subscribe to the podcast in iTunes to make sure that you never miss an episode