Where to Find Reliable Tech Support for your Membership Site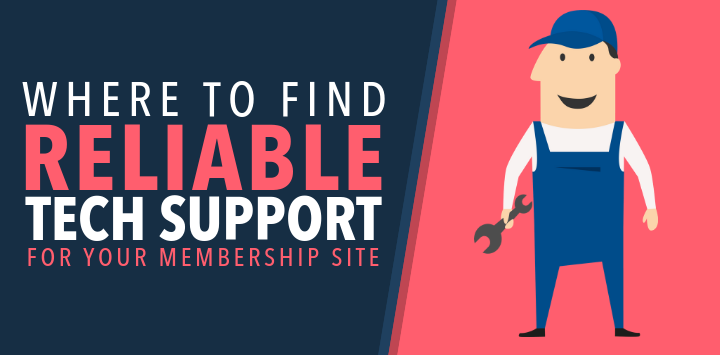 Subscribe to the Podcast Download Transcript
Membership websites have a whole mess of moving parts – plugins, themes, integrations, payment processors – they all add up to make memberships one of the most complicated types of sites that you can build.
And even if you have help getting everything up and running, chances are there'll be numerous times you'll need a bit of tech support in the day to day running of your membership.
But finding reliable help with the technical side of building and maintaining a membership can be a crap-shoot.
In this episode of The Membership Guys Podcast, I run through some of the most viable options for finding tech support that you can rely on for different stages of your membership.
Episode Summary:
The number one resource for learning how to build your membership site yourself (Spoiler alert: it's Membership Academy – because of course it is!)
How to distinguish between a legit web developer and someone who has just learned how to configure a handful of plugins and themes
Why it's not essential that your chosen web developer has specific experience with membership sites
Where to get help with ad hoc tech issues and day to day maintenance
Key Quotes:
"Asking for tech recommendations inside a Facebook group can be dicey. You're throwing out a big juicy sirloin steak, and the pack of hungry dogs will descend upon it so you're going to end up with a whole bunch of different people all vying for your business, and not every single one of them is going to be suitable. It can be real hard to discern whether they're any good or not based purely on their Facebook profile, so there's a lot to wade through."
"Don't dismiss a web agency or freelancer just because they don't state that they explicitly specialize in memberships. Specializing in memberships and having experience and knowledge of that industry is helpful, but ultimately any competent web developer will be able to make membership tech work. It's all the same skillset."
"Don't allow yourself to be shoehorned into using a different plugin or into changing the features you want in order to suit what the web developer thinks is best for you. Quite often this is symptomatic of someone who isn't actually a legit, competent web developer; it's symptomatic of someone who only really knows how to use a limited range of tools, and so they'll try and force you into using them. They'll say, "You don't want that feature, that idea is terrible." But usually it's because they don't know how to make it work with the tools they're comfortable with."
Enjoyed this episode? Check these out…
Mentioned in this episode:
Thank You For Listening
We really appreciate you chosing to listen to us and for supporting the podcast. If you enjoyed today's show, please share it using the social media buttons on this page.
We would also be eternally grateful if you would consider taking a minute or two to leave an honest review and rating for the show in iTunes. They're extremely helpful when it comes to reaching our audience and we read each and every one personally!
Finally, don't forget to subscribe to the podcast in iTunes to make sure that you never miss an episode