How To Use Content Marketing To Sell Your Online Membership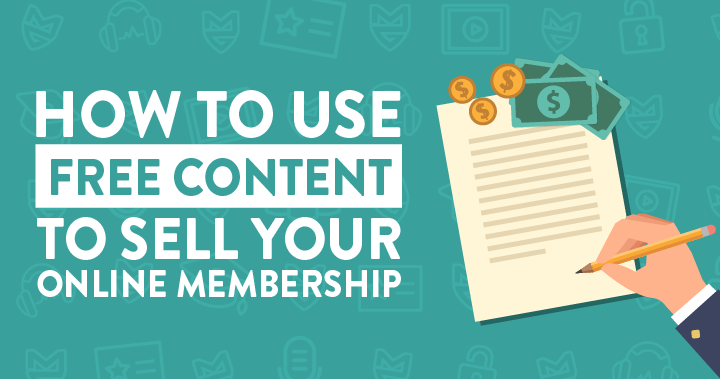 Content marketing is one of the most effective ways to promote and grow your membership, hands down.
Free content like blogs, podcasts, and videos will help you increase traffic, grow your audience, generate leads, and directly drive membership sales.
More importantly, it enables you to demonstrate your expertise and build trust with your audience.
And that is essential to attracting members who will stick around long term.
Consistently putting out quality free content is a must – but you can take things further and elevate your content marketing strategy to be even more effective for growing your membership.
Here are 6 ways to do that:
Ensure your paid and free content are aligned
Every piece of free content you create should act as a window into your membership  – connect the dots between what the public can see and what your members can see.
A great way of doing this is to work backwards from your paid content to create your free content.
For example, in our Membership Academy, we have courses and training focused on content marketing and content strategy…
Hence this blog post!
Every piece of content you publish publicly should connect and correlate to something in your membership.
Crafting this alignment between your free and paid content creates a natural next step for someone with an interest in your content – the step towards joining your membership!
If your free content gives them some of the answers to their problems, they'll want more and they'll trust you to deliver it.
Every piece of content you publish publicly should connect and correlate to something in your membership.
Connect those dots to give people an easy and beneficial path to follow.
Repurpose parts of your paid content into free content
If your membership includes courses or a series, you can take one or two lessons from them and repurpose them into free content.
A course with 20 or 30 lessons won't lose any of its value if you take a couple of lessons out and repurpose them.
You're not giving away the whole package, so your members won't mind, and your non-members will love it.
This is a tried and tested method that we use ourselves.
One of the reasons we love it is because it gives you the opportunity to promote a specific element of your membership.
If you have an especially popular course inside your membership, repurposing part of it could give you an easy spike in sign-ups.
You can also do this by taking snippets from webinars, workshops, or live Q&As – publishing an answer from a Q&A on social media will directly help your audience without damaging the value of your paid content.
Take the audio and or transcribe it as a blog post or even just into a social post.
Repurposing your premium content will not only give you any organic way to promote your membership, but it's also a highly efficient method of content creation!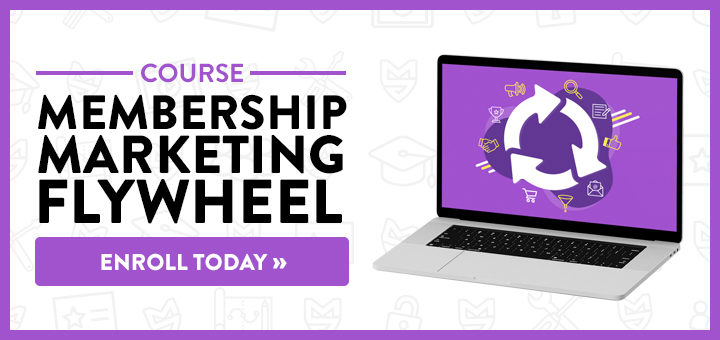 Showcase your members as part of your free content
Your member base is a never-ending resource of marketing assets.
Find ways to leverage your most successful members and create content around them – such as interviewing them or creating case studies from their stories.
If you'd rather make something smaller, that's easy to do too!
If you're giving an example of good practice in a podcast episode or blog post, don't just point to the big names in your field, use examples from your existing member base.
It'll make your point just as well and reinforce that your membership is valuable.
Rather than focusing on one or two members with case studies, you can do a quicker round-up of many members.
Think about writing a few blog posts along the lines of:
"15 of our members give their tips about…"
"10 of our members talk about the one thing they wish they knew before they started"
"8 members of [your membership] share their tips for success"
Tell their story, share their results, shine the spotlight on them. It's great social proof.
Use member questions as the inspiration for your free content
We touched on Q&As earlier, but we're circling back to them with a closer focus now because the best free content answers questions.
If your members ask questions, those are the questions your wider audience want the answers to as well!
Using members' questions as content inspiration should be a no-brainer.
If you have some popular or interesting questions that come up in your membership, answer them in blog posts and podcast episodes.
Just drop it into your intro that it came up in your membership.
Doing this gives your membership context and it gives you sure-fire impactful content.
This is such a powerful way of creating free content, as it will help your audience subconsciously associate themselves with your community because they know they think similar things.
And if all of that wasn't enough, answering members' questions in your free content is the perfect proof that you are present in and paying attention to your community.
This approach really takes things up to a new level.
Put your free content inside your membership after a set period of time
This is a different approach to the others listed so far, but it can work brilliantly.
Create a new feature, product, or content piece and release it for free… for a limited amount of time.
Then, when your chosen amount of time passes, lock it away in your paid membership.
Now, not all content is right for this approach.
Doing this with bog-standard blog posts isn't quite going to cut it.
But lengthy how-to guides, interviews, and tutorials (the kind of content people usually pay for) will be perfect.
The principle isn't so different from offering a free trial but, this way, you focus on one specific piece of content at a time.
A great experience with your time-limited free content can be a powerful persuader for someone to join your paid membership – it just has to deliver enough value!
Offer bonus content for your members attached to your free content
Provide value in your free content, but attach some great add-ons to it that are only available to your members.
This could be:
An extended version of your podcast or video
Worksheets or downloads that are specific to your free content
The resources shown within a tutorial
From personal experience, I can tell you this works. I'm a big geek and love Lord of the Rings so, of course, I bought the DVDs when they first came out.
When they released the extended editions on DVD (AKA the same films, but a bit longer) … I bought them too! A few hours of extra footage and interviews were enough to get me to part with more cash for something I'd already got the main value from.
If I'd had the option to buy just the extra footage on its own, I (probably…) wouldn't have.
Offering bonus content doesn't mean withholding the value in your free content, but it does mean adding even more to it.
So, your bonus content isn't the value offering in itself – but it's the cherry on top. (Or the chance to watch Merry and Pippin in Isengard.)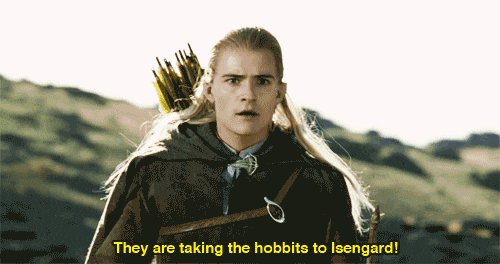 Are you a content marketing convert yet?
I'm hoping these six ideas have shown you how you can not only use content marketing to promote your membership but to elevate your content marketing strategy overall.
Content marketing really is such a powerful tool – especially for membership site owners.
And remember, six of your options for boosting your content marketing strategy are:
Align your paid and free content
Repurpose paid content into free content
Showcase your members
Use member questions as inspiration
Time-limit your free content
Offer bonus content
Are you trying any of these already? What's worked and what hasn't?
Join the conversation in our free Facebook group or head over to the Membership Academy where we dive deeper into the best strategies for marketing your membership within our community.