Is Starting a Membership Website the Right Move for You?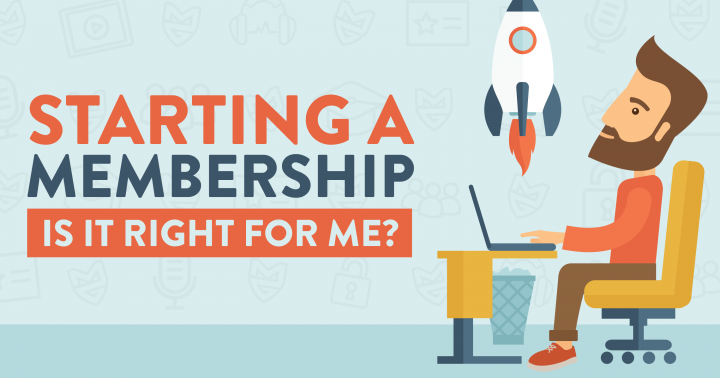 Starting a membership is exciting, nerve-wracking, and everything in between, but how do you know if it's the right choice for you?
The decision to start a new membership site is not one to be taken lightly.
It's a big commitment – and one that can be tricky to back out of once your membership is up and running with paying subscribers.
So it's important you start a membership for the right reasons and fully understand the type of business you're getting into.
There are five core questions you should ask yourself if you are trying to decide whether starting a membership site is the right choice for you…
1) Do you want to better leverage your time?
If your current business is one in which you exchange time for money – be it for a client, a boss, or a project – where you are doing a set task for a set period of time and getting paid an hourly rate for it.
Whatever your profession, if you're charging per hour for the work you do, the hours you 'sell' belong to your clients and you're getting paid once for that hour of your time, knowledge, skills, experience, and expertise.
If you want to better leverage that time – to get paid over and over again for what you produce in that time, rather than just straight exchanging your time for money – then a membership could well be for you.
In a membership model, once you produce a piece of content, that adds to your overall product.
The content you produce doesn't just pay you for the time you put into it, but it pays you from the moment you get your first member until the moment your last one leaves.
In short, you're turning static assets into a product that can produce recurring income for you.
If you want to move away from an hourly model and instead find a recurring, regular income for the same work you're putting in, then a membership could be great for you.
2) Do you have something you can teach?
If you have specific knowledge, skills, and experience and you know there is good value in teaching people to apply (or even just understand the theory), then you are on the right track.
You don't have to be a brain surgeon, but you need to have a unique skill set and a level of expertise that you can monetize and offer to people.
Not only that, you also need to package it up in a way that is transferable and teachable.
Membership sites are essentially online education or coaching/training platforms.
For all their different shells and artifices, memberships boil down to one thing: knowledge transfer.
If you don't have a skill that you can transfer through information, coaching, and content, then a membership site might not be right for you.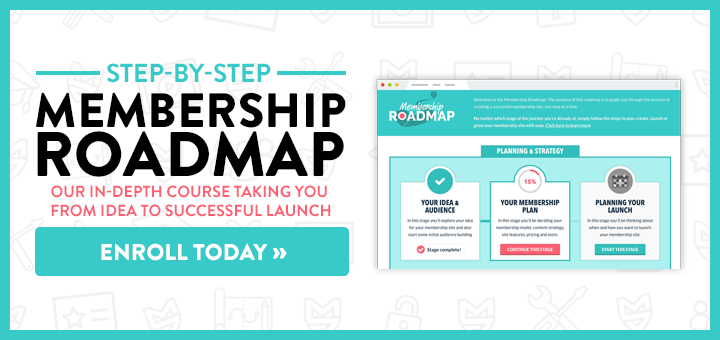 3) Do you enjoy creating content and providing coaching/training?
In order to run a membership site successfully, you're going to need to enjoy coaching and creating content!
If you don't, you're going to be opting for a career that will potentially make your life a bit miserable.
At the heart of membership sites is creating ways of transferring knowledge to your members.
If the thought of helping people understand the things you know doesn't appeal to you, then a membership site won't appeal to you either.
Admittedly, there are a few ways around this and you can start a membership site even if you're not an expert but, unless you have a huge network, you're going to need to be the creator and producer of your content.
If you hate the idea of your main job being a content creator and coach, then a membership site simply won't be right for you.
If you love the idea of coming up with fresh ways of teaching and educating people, you're in luck.
4) Are you already an online communicator?
If you're already fluent in online communication, whether as a member of communities, groups, memberships, forums, or social media networks, then you'll find the shift to running a membership website a lot easier to manage.
If you don't like communicating online, if you find social media stressful and blog posts tiresome, then you might find running a membership site challenging.
This is because membership communities are pretty much all run online.
Question one was all about leveraging your time and skills – this is done by moving away from a 1-to-1 way of working and into a 1-to-many.
It isn't really possible to do that without technology and, with that, online communication.
The decision to start a new membership site is not one to be taken lightly. It's a big commitment – and one that can be tricky to back out of once your membership is up and running with paying subscribers.
You don't have to be Steve Jobs, but you do need a solid understanding of how to communicate online and how to organize and manage a digital community.
If you're proudly technophobic, first of all well done for reading this blog post, second of all, you might want to leave it here…
5) Are you doing this for the right reasons?
If you're considering setting up a membership website, then have a good think about what your real, genuine reasons are for wanting to do it.
Are you looking to earn money fast with little work?
Excuse me whilst I pick myself up from rolling on the floor laughing!
A membership site involves a lot of work.
Getting everything started, from ideation to development to technical setup and content creation, is a huge undertaking…
And that's just the start!
Membership sites are ongoing transactions – your members keep paying as long as you keep providing value, so you cannot just 'set it and forget it'.
If you are excited to share your expertise, love the idea of helping people, and can't wait to create a treasure trove of informative content, then welcome to the membership game!
How to take the next steps
If you've answered all of those questions and you still have that excitement to start your membership – well done!
You can crack on and have a go at planning and launching your membership on your own, or you can lean into the expertise and reams of content available in our Membership Academy.
It exists so that aspiring membership site owners like you don't have to make all the mistakes we did at the start!
We've pooled together every resource we can possibly think of, created a thriving community of like-minded membership site owners, and helped thousands of membership sites go from dream to reality.
We hope to see you over there very soon, but feel free to browse our blog or listen to more podcast episodes if you're after a bit more information on starting a membership site.