How to Maintain Harmony Inside your Membership Community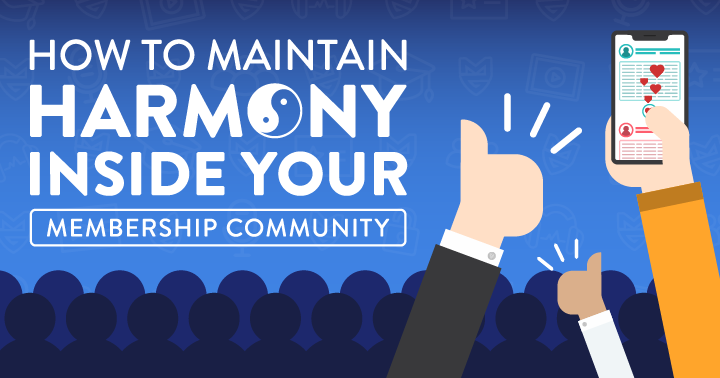 Subscribe to the Podcast Download Transcript
Ever heard the saying "members come for the content but stay for the community?"
Never has a truer word been spoken when it comes to online memberships.
Because if the community they find isn't supportive or welcoming, your members won't stick around for long.
After all, no one wants to actively participate in a community that's stressful to be a part of…
Where it's a toxic environment…
And there's the constant worry of saying something and getting jumped on or trolled.
That's not what your members sign up for.
And as a community leader, you have a duty to take action and keep the peace between your members.
Creating a positive, friendly hub for your members to hang out, have conversations and achieve what they set out to when they joined.
But how do you do it?
Follow these six simple tips to keep the harmony inside your membership community… 
1. Have clear guidelines and rules
What is and isn't acceptable in your community? 
You can't expect people to follow the rules if they don't know what they are… 
So make sure your guidelines are clearly set out on your website.
Not just the obvious anti-harassment ones…
Although those need to be there too.
Other things to consider including are your policies for self-promotion, posting links (especially affiliate ones), mentions of your competitors, and even off-topic talk.
You may even want to consider whether or not you and your members are happy for conversations that take place inside the community to be shared publicly.
This happens more than you think.
Once you've set out your guidelines and rules you need to make sure your members see them.
So make them prominent on your site…
Pin them as posts to the top of your forum or Facebook page and include them in your registration process.
2. Enforce your guidelines
Now, those rules are only as good as your willingness to enforce them.
Of course, you don't want (or need) to go over the top…
There's no need to be overly strict or controlling, but if you have rules and people don't follow them, there needs to be consequences.
Especially if you have problem members inside your community… 
For example, people posting obscene or threatening stuff should probably be shown the door straight away.
For others who make a simple mistake, all they'll likely need is a quiet word.
We typically advocate a two-strike rule for the less serious stuff.
This means that if people need to be told to stop breaking the rules more than once, there will be consequences, such as permanent or temporary bans. 
3. Turn up in the community
When it comes to maintaining harmony inside your community, it essentially comes down to you.
Sometimes you just being there is enough of a deterrent.
If people know no one's watching, they may be more inclined to scoot around the rules.
But if you're there, it's a different story. 
Being present in your community also helps you keep your finger on the pulse on what's going on…
Both good and bad.
And it means you can jump on any issues that arise quickly.
It's down to you to set the tone in your community… 
If you're helpful, constructive and positive, then your members will follow suit..
But if your behavior goes against how you expect your members to behave, then you're asking for trouble…
You need to lead by example.
4. Appoint moderators
If the thought of being present in your online community a number of times daily feels a bit overwhelming, we get it.
Firstly, you should set boundaries with your members to avoid that overwhelm…
This is something we'd recommend for all community leaders.
But secondly…
You don't have to do it all alone.
As your community grows, you'll be able to appoint moderators and other admins to help take some of the responsibility off your hands.
If you have business partners or Virtual Assistants, you can share this responsibility.
If not, you can approach your most active members to see if they'd be interested in moderating.
This gives these members a bit more power to edit and delete posts they deem inappropriate. 
I know what you're thinking…
What if they delete posts I don't want them to? 
Don't worry…
There are tools out there like IP.Board which gives you a little extra control to prevent that from happening. 
5. Encourage people to use real names and pictures
Sadly, online anonymity has emboldened a lot of people to ignore social norms and behave quite horribly.
Hopefully, you don't ever see anything that extreme in your community…
But it's interesting how people behave when they're hiding behind an avatar and a fake name.
They no longer have accountability for their language, behavior, or the content they share.
Generally, the communities with more positive interactions don't have these pseudonyms and avatars…
They're more open…
So, you might want to think about encouraging people to use their real names and profile pictures.
This will depend on your membership, of course, and whether anonymity is something your members value. 
6. Be wary of cliques
Any big group of people tends to naturally split up into cliques.
This can sadly leave the 'outsiders' to feel like…well, outsiders.
And if this happens in your community…
Those members on the sidelines will be less likely to want to contribute.
And this won't bring the sense of harmony you want to your community.
So make an effort to include all members where you can, not just the most active ones.
Welcome new members…
If certain members haven't logged in for a while…
Encourage engagement, without nagging them…
Tag members in posts that are relevant to them…
Simply make an effort to include them in conversations.
If there's one thing you need to avoid as a community leader, it's this:
Getting involved in (and only in) a small clique in your community…
This is a guaranteed way to exclude the majority of your member base. 
To make it a more positive, friendly place that's open to collaboration and sharing, you need to do more to include everyone. 
Managing a community is not always an easy thing to do…
There's so much to keep an eye on…
And managing a community dynamic is no mean feat.
But if you follow the steps outlined above, you'll be well on your way to creating a positive and harmonious environment for your members…
One which will have much better engagement rates…
Encourage members to stick around month after month, year after year…
And most importantly, offer support and advice to help members achieve their goals.
Thank You For Listening
We really appreciate you chosing to listen to us and for supporting the podcast. If you enjoyed today's show, please share it using the social media buttons on this page.
We would also be eternally grateful if you would consider taking a minute or two to leave an honest review and rating for the show in iTunes. They're extremely helpful when it comes to reaching our audience and we read each and every one personally!
Finally, don't forget to subscribe to the podcast in iTunes to make sure that you never miss an episode