Why You Should Keep Things Simple with Your Membership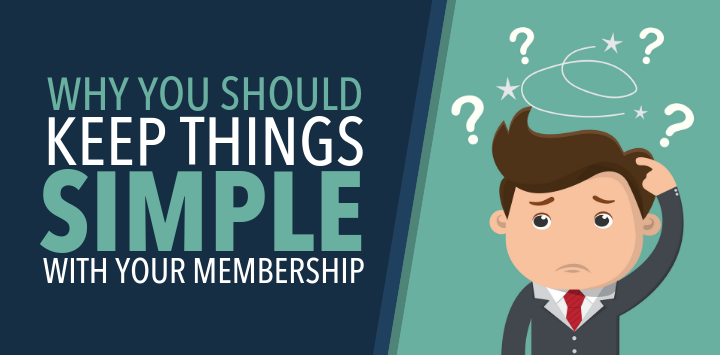 Subscribe to the Podcast Download Transcript
It's easy to get carried away when creating a membership website.
We often turn to other memberships for inspiration, and as a result end up with a wishlist of shiny bells and whistles that we absolutely MUST have for our own website.
And the end result of cramming all of those features into your membership is a convoluted frankenstein's monster of a website that's a pain to manage and an even bigger nightmare for members to use.
It's not just the tech side of things that people tend to over-complicate; we see the same thing happening with marketing, sales and overall business strategy too.
In this episode of The Membership Guys Podcast, I warn against adding too much complexity to your membership business and discuss the benefits of embracing simplicity.
Episode Summary:
The 2 reasons people tend to overcomplicate their membership
How keeping things simple will make your membership easier to market and sell
Why you shouldn't stress over how to offer upsells and other products on top of your membership
How sometimes sites that seem complex are actually pretty straightforward
Key Quotes:
"Overthinking everything… often that comes from fear. Fear that they're going to get things wrong. Fear that if they don't use every single possible conceivable idea that pops into their brain, it'll somehow turn out that one of those ideas that they didn't implement for a feature or a marketing tactic or whatever, that idea that was left on the table was actually the super-secret silver bullet that their membership needed. And that they're actually going to fail, because they didn't incorporate that one thing into their strategy. Its fear and the truth is its nonsense. There is no silver bullet. Your membership is not going to fail because you didn't incorporate that one idea."
"Can you make a legitimate business case – verified and backed up by feedback and data – for every single feature, every single change you may want to make in your membership? Doing something because your preferred marketing 'guru' told you to is not a good enough reason. Adding a feature because somebody else has it is not a good reason to add it. Adding something to your site because it looks cool or it seems slick and sexy, again, not a good enough reason."
"The more time that new members spend having to figure out how to use your membership, the less time they'll spend actually using it and the less likely they are to stick around. And the same goes for your existing member base too. If you're constantly adding new bells and whistles, and changing everything, they're gonna get frustrated, they're gonna get confused, they're going to leave your membership. I urge you, if you're at the beginning of your membership journey, start simple and ideally, stay simple."
Enjoyed this episode? Check these out…
Thank You For Listening
We really appreciate you chosing to listen to us and for supporting the podcast. If you enjoyed today's show, please share it using the social media buttons on this page.
We would also be eternally grateful if you would consider taking a minute or two to leave an honest review and rating for the show in iTunes. They're extremely helpful when it comes to reaching our audience and we read each and every one personally!
Finally, don't forget to subscribe to the podcast in iTunes to make sure that you never miss an episode