Using Segmentation to Increase Leads and Member Sales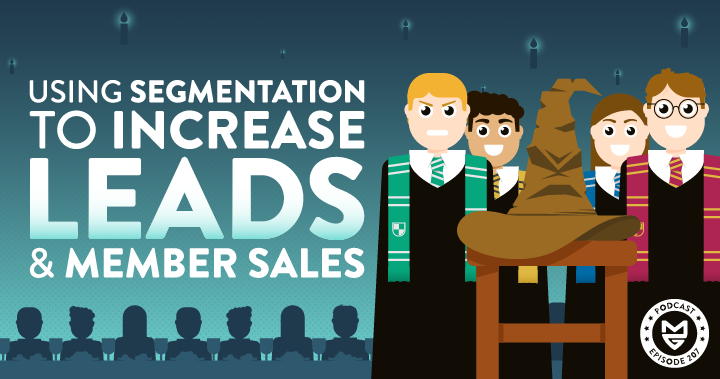 Subscribe to the Podcast Download Transcript
Content marketing is one of the best ways to build your audience and demonstrate your expertise…
It's brings people into your funnel and helps you direct them towards your membership. 
And there's some awesome free content out there…
But then there's also some content that's very middle of the road…
All a bit generic and broad…
Because it's not tailored to the group people who it's created for.
Membership owners go to great lengths to make their content as accessible to as many people as possible…
But that isn't always a good thing…
In fact, the broader your content, the less compelling, relevant and effective it will be to each individual reader. 
So sadly, by trying to cater to everyone, you end up catering to no one. 
And this doesn't just apply to your content… 
It could be your call to action for your lead magnet that's letting you down…
We see lots of memberships with great content asking people to sign up to their email list with a really generic opt-in…
Or even worse, they're just asking people to subscribe with no incentive…
How boring is that? No one's excited to just sign up to a newsletter! 
So how can we make content more interesting and relevant so it prompts people to sign up to your email list or membership?
The answer is simple…
Use segmentation!
Let's explore this further…
Why segmentation will help you escape generic content
Segmentation is your golden ticket out of this…
It can be a game-changer when you identify three to five key segments of your audience and give them exactly what they need. 
For each of those segments, you can tailor your content, tailor your lead generation strategy, emails and so on…
And by doing so, you can move the needle across all of the important KPIs in your business…
You can bring in more traffic, leads and ultimately, more membership sales. 
But how?
If your content is more relevant to the person reading it, they're more likely to engage with it because it offers a more personalized solution to the problem they're facing.
You just need to segment your audience… 
How to segment your audience
You can segment your audience in one of three different ways… 
Method 1: Segment according to where they are in their journey
Some memberships are about helping people achieve a specific outcome….
In other words, getting someone from A to B to C and so on…
There will be key milestones along the way. 
Take Membership Academy and Membership Geeks homepage as an example.
We've established that there's a pretty linear journey for people with memberships… 
We've broken this down into:
Planning – When you start a membership
Building – When you build and maintain it
Growing – When you grow and scale it

 
Someone who's had a membership for three years and is fully into that growth stage isn't going to be interested in content about how to start a membership. 
Similarly, you don't want to bombard newbies with articles and podcasts about breaking into a seven-figure income.
So, the content we create for each stage is different. 
Method 2: Segment according to competency
The next way to segment your audience is to do so according to difficulty level…
Beginner, intermediate and advanced. 
This is a handy way of doing it if your membership is skill-based, for example, music instruction. 
In this case, you'll know which subjects are beginner-level versus advanced.
Create content for each of these segments and have a relevant call to action that fits the level of the person consuming it.
Method 3: Segment according to subcategories
For multifaceted memberships that are a bit more complex, the third method of segmenting your audience is to do it via subcategories.
If you're teaching something like online marketing, it's a bit harder to break down into the two methods above.
Instead, you could break it down into people who are interested Facebook advertising, Pinterest, SEO, or email marketing and tailor that content for each segment.
For example, if someone reads an article about Facebook ads, then they're given a lead magnet about Facebook ads specifically, they're way more likely to sign up.
Use segments to inform what content you create
Don't just use these as categories to bundle your content into…
This isn't about using tags for your blog posts… 
It's about using these segments to inform which content you create, and then use that as a focus in your sales funnel.
Whichever method you use, keep things simple and only have around three to five segments…
It'll be way too much otherwise. 
Once you have decided on those segments, create a lead magnet for each of them so everyone's got a highly relevant and targeted lead magnet to click on.
This ensures people are far more likely to join because it'll be clear to them why your membership is right for them, their experience level, competency, and interests.
And once they've joined your membership, you can take segmenting to the next level by personalizing their new member experience.
It's time to start segmenting…
So, think about what your membership is about…
What your members are interested in…
And if they're trying to achieve a particular end goal or if they're on a journey.
Consider whether they easily break down into competency levels…
Whether it's an interest or more of a topic-based segmentation you'll need. 
From there, identify your three to five key segments….
And use them to inform your lead magnets, onboarding emails, newsletters, and blog posts so you can give people exactly what they're looking for.
I can honestly say that using segmentation has been a game-changer for us…
And it will be for you as well if done correctly.  
Thank You For Listening
We really appreciate you chosing to listen to us and for supporting the podcast. If you enjoyed today's show, please share it using the social media buttons on this page.
We would also be eternally grateful if you would consider taking a minute or two to leave an honest review and rating for the show in iTunes. They're extremely helpful when it comes to reaching our audience and we read each and every one personally!
Finally, don't forget to subscribe to the podcast in iTunes to make sure that you never miss an episode