Promoting Your Membership using Social Media: A 12 Step Plan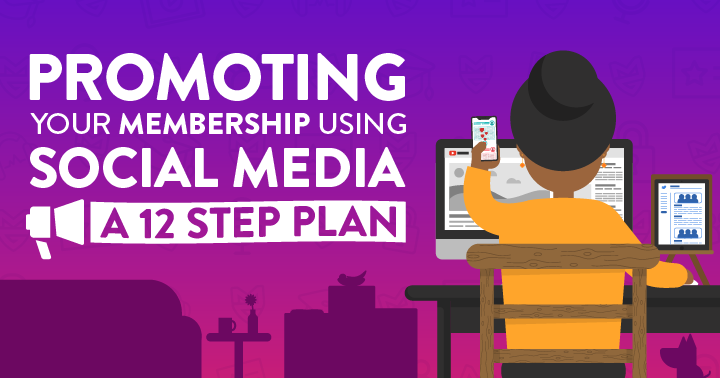 Promoting your membership using social media has it's challenges.
There's a lot of noise to cut through…
So many platforms out there that we feel pressured to be active on daily…
Sometimes it's hard to know what what to say to followers.
Or how to even begin building an audience.
And don't even get us started on those pesky algorithms! 
While there's no easy solution to conquering social media marketing, there are some steps you can take to build a solid foundation that will generate positive results for your membership business.
And we're here to share them with you!
Here's our 12 step plan for promoting your membership using social media.
1. Do a social media audit
Start by taking stock of where you currently are with your social channels.
Take the time to dive into your stats from each of your social media platforms to get an idea of engagement levels and follower behavior.
You should also look at your website using tools like Google Analytics to see if your social media is driving traffic to your sales page and blog content.
This will all give you a full picture of how you're performing on social media…
What's working, what's not working…
The type of posts getting high and low engagement and so on…
When looking at this data, is there anything jumping out at you?
Is there anything you think you need to start or stop doing?
What do you need to do more of?
This is your chance to really take stock of the data so you have a clear starting position to move forward with.
2. Set some clear goals
The next step is to set some clear goals and objectives…
What do you want to achieve using social media as a marketing tool for your membership?
You need to have a clear picture of what you want, and it's important to be realistic.
If you're currently only getting a trickle of traffic and haven't seen a single sale from social media before…
Then it's not feasible to aim for your social media channels to become your number one source of sales by next few months.
That just won't happen! 
So be SMART (Specific, Measurable, Achievable, Relevant, and Time-bound) when setting Goals for Your Membership.
This is an important process to go through if you want to experience continuous growth on social media.
3. Take time to understand your audience
To give your audience what they want, you first need to understand them well.
You need to be able to clearly answer the following questions:
What do they actually want?
Who is currently following you?
Do your followers represent the target audience for your membership?
Who's buying from you already or are in your sales funnel?
How many are actively interacting with you but are yet to buy from you?
Are there elements of your target audience who aren't interacting with you at all? If so, why? 
Try to find out what conversations they're having, what their interests are, and what they need.
And if in doubt, ask them!
You could tweet or post asking people a question like:
"What's the number one thing they're struggling with when it comes to [your niche]?"
That simple question can trigger a whole bunch of gold nuggets in terms of ideas for what you should be talking about on social media.
If you can address the biggest problem areas for your audience, then they're going to engage and connect with you more.
Think of this almost like stocktaking…
It's an audit of your audience to see how aligned they are to what you're selling within your membership. 
4. Get clear on your messaging
Your followers need to understand you and your membership…
What you're offering, what your values are, your personality, knowledge and experience…
Who you are and why you're worth paying attention to.
It's important to stay consistent – both aesthetically and with the tone of your posts.
Don't be flakey being all fun and wacky in one post then follow it up with a serious, corporate tone in another.
Consider the bigger picture of your personal or your business brand if you offer other products or services.
How does your activity on social align with that?  
Get clear on your brand messaging, your value proposition and how you can help your audience.
5. Pick the right social media channels to focus on
Wanna know a secret?
You don't need to be on every single social media platform!
I often talk about finding 'pockets of passionate people'…
And that's exactly what you should do on social media.
You need to focus on the platform(s) where your audience is for your membership. 
And look at where you get the most engagement from the largest proportion of your audience and focus on that, rather than constantly trying to find the next hot social media property.
For us that's Facebook.
This is our biggest platform where we have a group that's closing in on almost 20,000 members.
So, naturally we focus a lot of our time and effort on that platform.
And you should do the same for your membership…
Rather than trying to juggle multiple channels from the get go, pick one and start there.
Go all in.
Later on, you can expand into other channels if need be.
6. Create a content calendar
It always pays to have a plan.
So, make a list of everything you need to promote regularly…
Including new content that's getting released, monthly membership Q&As, new courses or workshops and stuff like that.
Plan and schedule your social media posts for those daily, weekly, and monthly events…
And try to plan them out a month ahead at least.
Another thing you can do is create categories for your content and plan how often you want to post about them…
For example, you might have a category for member testimonials or lead magnets…
And you could decide that once every two weeks, you'll share a testimonial.
It helps keep it consistent, and you're less likely to forget.
You should be active at least once a day…
That will give you that solid foundation to build on.
7. Make sure you engage with your followers
Remember, the key word in social media is 'social'
And there's much more to social media marketing than just pushing out content and leaving it.
Always aim to have two-way conversations.
Wondering what your followers need help with?
Ask them.
This can inform your future content and marketing, but at the very least, it can spark discussions…
Ask questions, get to know your audience…
And tag your members when the opportunity arises.
Another good way to engage is to share user-generated content…
If you're hosting a live session encourage members to take a photo and share it on social media so you can re-share it…
And if they're celebrating a win thanks to your membership, make sure you're sharing it too.
8. Take steps to build that audience
Don't just rest on your laurels thinking…
"I've got this fantastic Facebook group, there are lots of people in there and they're not all members yet so I'll focus on converting them"…
You need to continuously priming the pump to bring new people to your audience.
Both organically through things like content marketing, engaging on social media…
Or the paid route where you utilize advertising to attract new members.
9. Review and refine your message
Once you've built momentum and are consistently putting out content, make sure you're regularly reviewing and refining your message.
Check if your content is too salesy…
I'm not suggesting you avoid being salesy altogether…
But you just want to make sure you're not bombarding people with advert after advert…
There needs to be a balance…
You need to find a variety of different ways to highlight your membership.
Mix up your social media feeds with general tips, testimonials, blog posts, graphics, and so on.
Rather than trying to sell the entire membership in a LinkedIn post, pick out an individual element to write about.
Create a post about how one course or lesson helped a member achieve a big win.
You could also mix in some behind-the-scenes content as well…
All it takes is a little ten-second clip posted on Stories to share what you're working on and what people can expect.
It's selling without being too salesy.
Another tactic you could try something I like to call member first messaging…
This is where you publish posts with the assumption that the people reading them are members.
Say things like "Calling all Academy members, we're going live later today to deliver training on X"…
You're speaking primarily to your members.
And alerting non-members to what they're missing out on…
Which may drive them to join your membership.
10. Deal with negativity
This may come into play if you're being too salesy on social media.
You might get some negative engagement on your posts. 
It's important that you make an effort to ensure you're doing everything you can to handle any negative comments in the appropriate way.
Keep an eye on what people are saying.
If someone responds to one of your posts in a negative way, make sure you reply quickly.
And if necessary, take things offline to try and resolve the issue.
Don't just ignore it…
Unless it's a random troll…
But if it's a member or a genuine follower, make sure you respond positively with a solution.
11. Consistently offer value
It's not just about promoting your membership…
Make sure you're listening to your audience and are consistently offering value and relevant insights.
Share your knowledge and expertise and keep up to date with the latest trends.
This helps to make joining your membership a no-brainer because you'll be seen as an expert.
Please avoid posting clickbait posts like…
"What do you prefer, Marvel or DC?"
Unless of course that's aligned with your brand…
But if it isn't and doesn't offer any value or relevance, don't post it.
Just be who you are and share your knowledge.
This will help you connect with your followers and eventually may even result in you attracting new members.
12. Put solid analytics in place
This brings the the planning process full circle in terms of knowing your numbers.
To see whether you're doing the right thing and if you're resonating with your audience, you need to review the data.
This will help you see if one channel is more valuable than another.
It'll make you aware of what type of content performs best, at what time, and on what channel.
That way, you have more direction on what to spend your time on more next week or month.
Promoting your membership on social media sounds simple in principle…
But as you can see, the reality is very different.
There's a lot to take into consideration.
The key to success is to have a plan like what we've outlined in the 12 steps above, keeping on top of how your efforts are paying off and making adjustments where needed.
Doing so will ensure that your social media activity is working for you when it comes to building your audience, generating traffic to your website…
And will ultimately drive sales for your membership.