How to Keep Your Membership Waitlist Engaged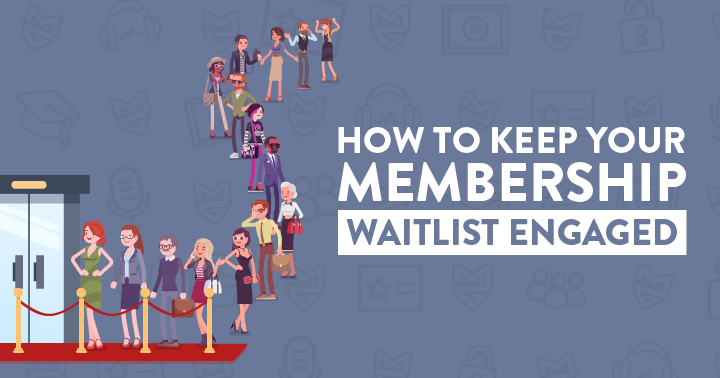 We are BIG advocates of setting up a waitlist for your membership.
But once you do, what's next for those people who sign up?
There are lots of ways you can keep your waitlist interested and engaged with you and the launch of your membership site.
What is a membership waitlist?
A waitlist is a dedicated email list that people subscribe to in order to receive updates about a membership that you are going to launch in the future.
It can also be used for a membership you've already launched but has a limited enrolment window, otherwise known as a closed-door membership model.
It is one of the first things you should add to your to-do list while preparing to launch your site.
You can start by building a simple landing page that explains everything someone needs to know about your amazing membership, what it contains, what the benefits are, the launch date and how they can stay informed.
Include an opt-in form for people to enter their email address so they can receive your news and updates as you get closer to the big day.
While people are checking out your landing page and signing up in anticipation of your site launch, you will be working hard in the background getting your site ready!
So, while you are plugging away at your site, eager subscribers are trickling in and are willingly, patiently waiting for your fantastic product to be the answer to their problems!
You now have a captive audience you can communicate directly with.
These are the people that will be the first to know about any and all news from you.
And the key is to make sure you are taking care of these lovely people while they wait, because a substantial amount of your initial subscribers will come from this list when you open.
This is your opportunity to engage your subscribers on the waitlist to the point that they are just chomping at the bit to get started!
Your subscribers could be patiently waiting for several weeks, sometimes several months.
So, it's important not to bombard them with emails on a daily or weekly basis.
Many of them are likely to be on your primary email list already.
We recommend every month or so, give them a nudge. Remind them about the launch date and provide them with something to chew on while they are waiting.
Then once your launch date comes closer into view, increase the emails you send accordingly.
It's important to think about what you will be communicating with them while they wait and how you will keep them engaged.
Be engaging while they're waiting
If you're going to launch a brand-new site, there are plenty of content ideas you can use in your emails.
1) Sneak peeks
Give your readers a peek into what you've been working on.
Include screenshots of the site in development, or photos of you at your computer slaving away!
Be open and show them how the site is coming together. It's an opportunity to get a glimpse behind the scenes.
2) Research emails
The whole purpose of your site is to solve the problem your audience has.
So why not use your subscribers like a focus group?
Ask them questions that will give you more in-depth knowledge of the kinds of issues they're facing.
What is their number one problem as it relates to your topic?
How did they handle an issue in the past?
What are they puzzled about in particular?
These kinds of questions signal to your readers that you are committed and you want to make sure you are addressing each and every potential issue they have on your site.
3) Surveys or polls
This is a fantastic way to get input on potential content ideas. Send out a survey or a poll using a tool like Survey Monkey.
Maybe you need some advice on what to name your membership site. This is a perfect way to use a poll.
You can schedule one-to-one calls with your members in waiting if you really want to get into their heads and understand what stage they are in, what their perspectives are, what language they use.
You can ask for advice. For example, perhaps you are considering three workshops to release on the site. Ask which workshop they would like to see released first on launch day.
Even if you've already made some decisions on content, continue to seek input and feedback from your waitlist.
Your subscribers will feel involved and invested.
By surveying them, you are indicating that their thoughts and ideas matter to you and that they have some say in the content you provide.
By having input, ownership and influence over the content in your membership site, they will be far more likely to want to join.
4) Early-access weekend
As you get close to launch, you can offer an early-access weekend – an opportunity to join your site early.
Your waitlist can get access on a Friday and the general public will have to wait before they get access on Monday.
Your waitlist subscribers are special, and they need to know that!
It's a nice way to show how grateful you are for their patience.
Plus, it's a great way to get pre-engagement and buzz inside your community when the general public gets entry on Monday.
What about waitlists for closed-door memberships?
These are membership sites that are closed for most of the year and have a limited enrolment period.
We don't favour this model, but we get it.  There are situations where this strategy is called for.
So, the need for a waitlist in this case is to capture leads who are interested when your site does open.
The bulk of your engagement efforts will happen in the month before you reopen.
But be cautious about your timing.
You don't want to make them wait too long by rubbing their nose in the fact that they are not a member right now.
You can consider the suggestions I've made above and see if they make sense for your closed-door site.
You can use sneak peeks and give hints to your readers about new content that you are adding to your site and that is only available in the next wave of enrolment.
Some other ideas to consider:
1) Pre-qualifiers or pre-work
This is a way for you to make sure people want to join by giving them some homework.
For example, if you run a guitar membership site, start with sharing ideas on what kind of guitar to buy.
Then perhaps give your tips on how to create a habit of practicing regularly.
2) Social proof
This is by far, the best way to engage your waitlist audience when it comes to closed-door sites.
Testimonials from people already inside your site will really drive interest and raise the chances of the subscribers converting to members.
Share the success stories and how your readers can benefit from these same results if they become members.
The testimonials speak volumes to the high-quality value-added service you provide, plus you have a proven track record that they won't want to miss out on.
If you're working on a brand-new membership or if you have an existing one where the doors open only a few times a year, make sure you set up a waitlist and use the ideas we suggested to keep that excitement level up until you are ready to launch.
Once the wait is over and you've pulled off a successful launch, you will be glad you put the effort into providing engaging content to your waitlist.