Membership Toolkit: Descript, WP Fusion, Ecamm Live and The Forever Transaction [June 2020]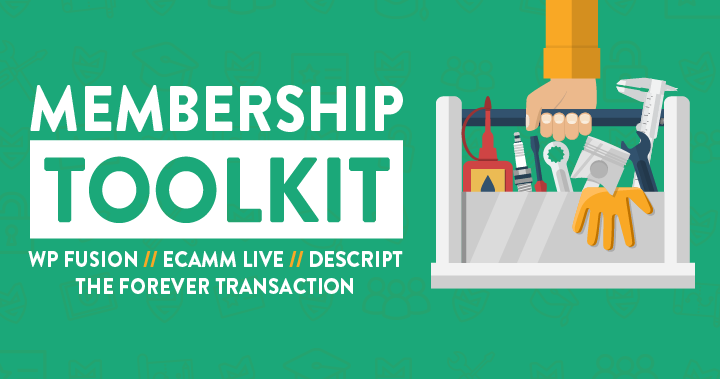 Welcome to the first 'edition' of the Membership Toolkit – a monthly round-up of our favourite tools, tech and teachings for online membership owners.
Each and every month we'll be highlighting everything from plugins and platforms to software and services, books and blogs to courses and conferences; giving you our top recommendations for what will help you and your membership business.
So, let's dive in with the very first Membership Toolkit recommendations for June 2020:

It's long overdue for us to give WP Fusion some love on this site as it's hands down one of my favourite plugins for membership owners.
While you can technically use it as a membership plugin; it's so much more than that.
It's designed to be used in conjunction with a tag-based marketing automation/CRM service such as ActiveCampaign, Ontraport and Keap; with WP Fusion providing the "missing link" that enables you to bridge the gap between those systems and dozens of popular WordPress plugins – from ecommerce to e-learning, membership plugins to page builders.
So when something happens in Plugin A, WP Fusion can add a tag in your CRM, and the presence of that tag then influences something in Plugin B.
In practical terms this means you could set up connections where:
Filling out a questionnaire in Gravity Forms unlocks an achievement in GamiPress
Registering for an event in Event Espresso automatically adds you to a MemberPress membership level
When someone completes a course in Memberoni (yep, it's even got Memberoni support!) – show a congratulatory pop-up form created with Popup Maker
Furthermore, you can use WP Fusion to control access to content or the visibility of menu items and so on based on whether somebody has a specific tag in your CRM.
And the fact that it's tag-based means there are few limits to how creative you can get in how you use this to enhance your membership.
So you could use WP Fusion to:
Unlock protected content in your membership when someone has a tag added to them in ActiveCampaign. This could be used for drip-feeding content, unlocking 'bonus' content for long-term members etc
Add a tag in your CRM when someone starts a course and a different one when they finish it – enabling you to "nudge" them via email if a certain amount of time passes between starting and completing the course.
Send an automated email reminder if someone hasn't logged in for a while, and then award them a 'badge' in your gamification system when they log back in
Identify members who join via an affiliate link and add a tag to them that's specific to the person who referred them – enabling you to acknowledge the referral in your emails, on your website and also automatically send thank you messages or unlock bonus content for your affiliates.
…and a heck of a lot more!
It's hard not to get carried away with all the different possibilities once you start digging into what WP Fusion is capable of, and if you're early in your journey or have pretty straightforward needs then it might be too much for you right now.
However if you're looking for a way to fine-tune a membership site that has a lot of moving parts in order to elevate your member experience and make your business work smarter, then WP Fusion is an essential tool in your arsenal.

We've been making huge strides into levelling up our live-streaming game over the past month or so, and it all started when we downloaded Ecamm Live.
I remember using Ecamm Live when it very first released and not being overly enamoured; however several years on when I was asked to host a live Q&A as part of a virtual conference I was participating in, it was suggested that I use Ecamm Live rather than our usual live-streaming software due to its ability to display comments on screen.
After that one session, I found myself excited at the prospect of live-streaming again.
It was always such a hassle to do anything other than really basic livestreams via Facebook Live; however when I used Ecamm Live, something just clicked in an instant due to how laughably easy this software makes everything.
I'm very big on little touches – like countdown timers, intro movies and overlays – the sort of stuff that was always a pain to set up in the various clunky live-streaming platforms I'd previously tested out.
But this isn't the case with Ecamm Live.
The ease of use encouraged me to rethink our previously abandoned approach to Facebook Live, and the realisation of how easily I could add all of those extra touches led us to invest more into our setup and equipment.
And to be honest we've barely scratched the surface of what it can do. With Ecamm Live you can easily do things like:
Use and switch between multiple cameras – particularly useful for showing different angles or a close-up of notes you're making or practical work you're doing (i.e painting, woodwork etc)
Show "picture in picture" where you're shown on-screen alongside a slideshow presentation or even a screencast for tech walkthroughs
Switch between pre-recorded video and live content
Feature remote guests on your livestream by broadcasting Zoom or Skype calls
There is a big, big, "BUT"… Ecamm Live is currently only available for Mac, not Windows.
That rules it out as an option for a lot of people, but if you are a Mac user then Ecamm Live should be top of your list for live-streaming or even just for pre-recording videos too.
And if you want to see it in action, here's a recent Facebook Live we did that features overlays, real-time Facebook comments and more (all that's missing is the intro timer, as we trim that off the replay once the live is over):
5 Ways to Improve Retention & Reduce Churn

Memberships are a retention-driven business model. If you're losing members faster than you bring them in, then you won't last long at all.Here are 5 tips to help you to increase retention and improve churn in your online membership…

Posted by The Membership Guys on Wednesday, May 13, 2020

I freaking LOVE Descript!
It's a text-based audio and video editor – what that means is that you can load up a video or an audio file such as a podcast, have Descript automatically transcribe it, and then as you delete words and sentences in the text transcription, that same content will also be removed from your video or audio.
To say that this simplifies and speeds up the editing process would be a huge understatement!
Whether you need to cut out whole chunks, re-order sections of your content, or even just trim out filler words like "um" or "you know" (which Descript now actually has a "batch delete" feature for, that'll automatically detect filler words and let you get rid of them in one fell swoop) – it's all as simple as editing a Word document when using Descript.
And if that were all Descript did, it'd be enough to warrant its inclusion here; but there are so many more cool features…
Like the ability to export your transcription as captions and subtitles that you can upload to YouTube and other video hosting platforms.
The fact you can highlight passages of text and easily split them out into separate clips, that you can then turn into Audiograms or send to platforms like Headliner to create social media content.
And maybe the most exciting feature of all – albeit one there's a waiting list for – is something called "Overdub", a feature which uses AI to create text-to-speech audio in your own voice.
This enables you to type corrections audio segments without re-recording anything, or even to generate realistic audio in your voice from a written article.
Very cool… and slightly scary!
As mentioned there's a queue for approval to use this feature, and it's a pretty long one, however once it's available it opens up some very exciting opportunities.
And there's so much more to Descript, such as:
Version control to make it easier to roll back to earlier versions of your project
Team-sharing features that enable collaboration between multiple people on one track
The fact you can also edit video, and export your edited project into more advanced tools like Adobe Premiere Pro
The option to manually correct the automated transcript or even order a human-generated one instead
It's seriously impressive tool for anyone creating audio or video content.

The Forever Transaction from Robbie Kellman Baxter is the foll0w-up to the seminal book The Membership Economy, released in 2015.
For many online membership owners, The Membership Economy was their first real introduction to the idea of the membership business model; and it's a title that still holds up today thanks to Robbie's engaging writing style and unique knowledge and experience gained from being at the coalface of subscription businesses like Netflix.
The Forever Transaction is a strong follow-up that builds on the principles espoused in the first book and provides a clear path to follow in order to move your business to a subscription model.
It should be noted, however, that The Forever Transaction is clearly written with a very specific individual in mind: the person who is responsible for transitioning a large, traditional corporate juggernaut away from outdated business methods and towards a subscription driven strategy.
As such there's a lot in this book that will not apply to the average online membership owner.
Chapters on managing the transition team and getting the buy-in from CEO's and stakeholders, as well as the sections on the pros and cons of acquiring smaller subscription companies take the book into a world that will be alien to most people reading this blog.
However even at times when the content is not relevant, it's still extremely interesting and is peppered with golden nuggets of wisdom that are universal to anyone in the membership game.
Regardless of its broader scope, The Forever Transaction is as much a must-read for online membership owners as its predecessor.
And that's a wrap!
I hope you've enjoyed the very first edition of the Membership Toolkit! Keep your eyes peeled next month for another round-up of the top tools, tech and teachings for online membership owners.
Disclaimer: Some of the links above are affiliate links. If you purchase through them, we may earn a small commission which in no way alters the price they you will pay for these products. However, please note that these are resources that we've either tested extensively or used personally; and come from companies or individuals that we know and trust. We are not paid to recommend products and our opinions are in no way influenced by compensation.