MemberPress Review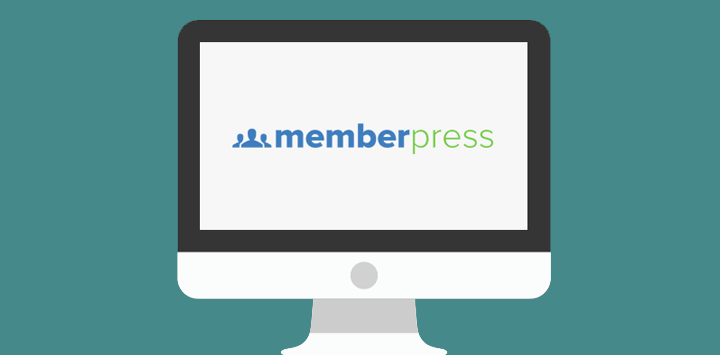 MemberPress
Callie Willows
4.1666666666667
5
MemberPress provides a strong feature set with a surprisingly easy set up process. With some nice management features and options lacking in other membership plugins, there's very little you couldn't do with this plugin and it's great all-rounder.
Review last updated October 2018
It's taken me a long time to write this review, considering I initially bought MemberPress in June 2014. To be honest, I'm glad I waited as in that space of time my opinion of MemberPress has gone from it being just another membership plugin to it now being one of my favourites. Why? Well, it's released several new features in that time that give it the edge over competitors in my eyes, and it's one of the simplest yet feature rich membership plugins to get started with. MemberPress continues to evolve and add new and improved features and integrations, and their customer support has always been timely.
The full review:
Features
When it comes to content protection – or Access Rules as MemberPress calls it – there isn't much that you can't protect including pages, posts, categories, tags, files and custom post types. The way the access rules are set up also means that it's easy for the same content to be utilised for different membership products.
Whichever edition of MemberPress you buy you can have unlimited membership levels  and unlimited members. Also, as members can have access to more than one membership at a time (something not possible with a great number of membership plugins), this makes it a great option for sites with multiple courses or membership products available.
Another cool feature if you are going to be offering multiple membership levels is that you can group your products and use those groups to create upgrade and downgrade paths (e.g bronze, silver, gold) and it will auto create pricing tables which you can insert on your sales page. When you create each product/membership level you simply add in the features you want to show on the pricing table and which product group it is a part of. There are several different pricing table designs to choose from, and if you're not happy with any of them, you can code your own as well, or skip the pricing table altogether.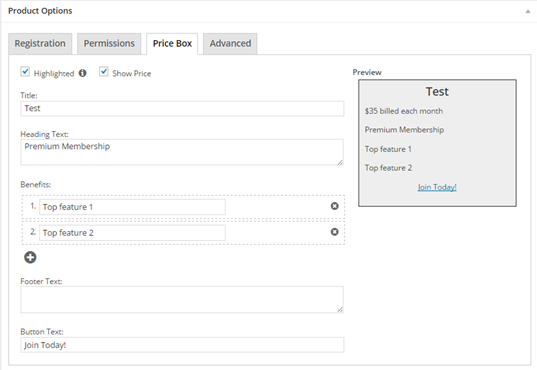 You can drip content out via registration date or on a fixed date, making it ideal for courses that have set a start but where you want members to be able to register as soon as they purchase. You can even set content expiration dates for when you want members to lose access to certain content.
Some useful (and less common) features worth knowing about are that you can allow members to pause and restart their own membership, which can be a great way of keeping members who might otherwise cancel because they're suddenly too busy for a couple of months. If you're offering upgrade paths the plugin will also automatically pro-rate upgrades if you choose to allow this. This means that if a member joins on a bronze membership then decides to upgrade to silver, any existing time/payment is taken into account and the upgrade cost adjusted respectively.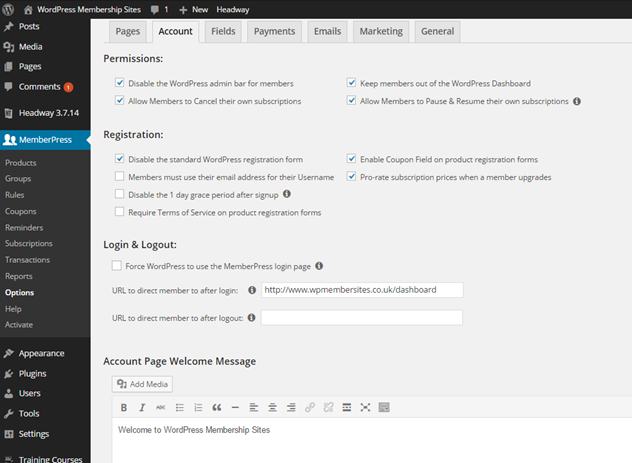 If you want to stop members from seeing the top admin toolbar logged in WP users see by default, or to completely prevent them from seeing the backend dashboard of WordPress, all you need to do is tick a box, as you can see in the image above. Similarly, if you want to have them agree to terms & conditions, just tick a box and enter the terms you want and bob's your uncle, it's done.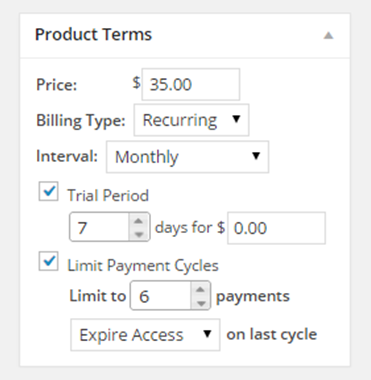 When it comes to pricing you have a range of options including being able to set custom time periods for recurring payments, limit the number of payments, offer a free or paid trial of any length you choose. For one-off payments you can choose whether access should be Lifetime, Fixed Expiry Date or Expire after so many days. Not only do you have tons of flexibility with your pricing structure, you don't have to stress about creating payment buttons – payment links and pricing tables are all created automatically once you set up your payment provider (no having to go into PayPal and copy and paste details any time you want to set up a new product!).
One distinct feature of MemberPress is its Paywall which allows you to offer non members access to a certain amount of membership content for free before they have to become a member. Depending on your site this can be a great way to give people a taster of the great content you're offering and thus increase sign-ups.
Connected with the above is a powerful feature where you can simply tick a box that means that search engines like Google will essentially be treated like a member and can therefore index your membership content and display the links in search results. This isn't something that most membership plugins provide, but again it can be a great way of driving traffic to the site and could also be used in conjunction with the Paywall mentioned above or the 'Excerpt' feature of MemberPress which lets you show a certain amount of a protected page as a teaser to non members, before directing them to sign up.

Coupons are another big feature of MemberPress and you have the ability to create as many coupons as you want, customize the code used, control when the coupon expires and how many times it can be used (great if you want to promote an offer for the first 10 people only!). You can also use coupons to override trial periods or create trial offers on existing memberships, and there is the option to apply a discount to the first payment only as well.
MemberPress enables automatic emails to members for events such as when their subscription is expiring or due for renewal, or when their credit card is due to expire (thus reducing missed payments!). You can even set it to send an email when a member abandons sign up part way through. And yes, you can turn on and off the emails as you need, and customize them fully. You can even create things like a new welcome email for each membership product if you want to.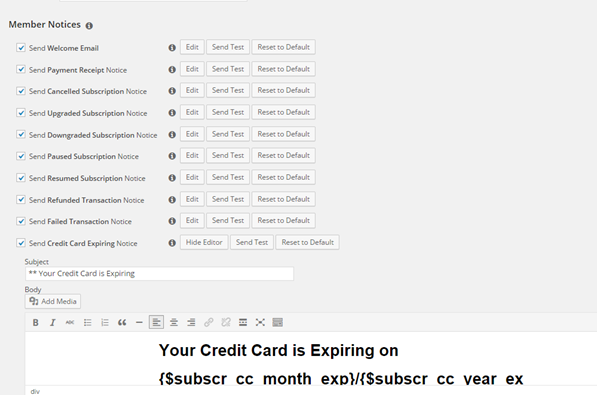 Due to the way it's built MemberPress should work with any theme or framework. For advanced users and developers you can also integrate your own custom code easily, and according to their website pretty much anything you can think of can be customized – although I haven't put that completely to the test. Note that the Developer Tools add-on that will let you do things like pass on API notifications and webhooks isn't available in the basic plan.
MemberPress also has a taxes option that allows you to calculate different member tax rates easily (which helps with the new EU VAT law!) including automatic geolocation.
An important point to note if you plan to offer multiple membership products, is that you can easily set unique thank you, welcome and after login details for each membership level if needed.
There is a Corporate Accounts add-on available for higher tiers that allows you to create group memberships where someone is able to pay for a set number of 'seats' in your membership and easily control access to these sub-accounts. This can work well in a number of scenarios where you may have one purchaser for a number of different members, and allows access for all accounts to be tied together easily.
Ease of Use
Considering MemberPress has a lot more features than many other membership plugins I was pleasantly surprised by how easy it was to set up. It will even auto generate account, thank you and login pages for you and everything is very clearly laid out. For many features it's just a simple case of ticking a box to turn it on or off and that's it.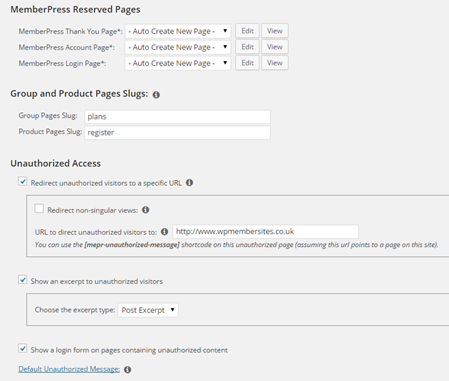 It's really easy to create custom messages for things like account pages, unauthorised access pages and a thank you message for a particular product, or to customise any emails that get sent out. Editing boxes usually open on the same page as well, so you're not having to go back and forth a lot. You can also easily create custom registration fields if you need to collect extra data when a user signs up.
Setting pricing couldn't be easier, and to set up your payment provider is pretty simple too. Just copy and paste in a few initial details to get MemberPress and the payment provider talking and that's it. You don't have to continuously flick between your website and your payment processor to set up payments (this drives me mad with Wishlist!). You can also easily set up more than one payment provider allowing for multiple payment options on checkout (for example Stripe and PayPal) and you can also remove particular payment options for individual products if needed.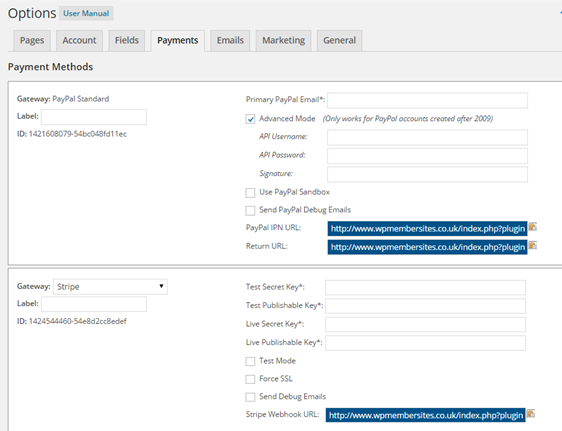 Integrating your autoresponder is easy enough too, including choosing whether you want to use double opt-in and also allowing you to put a check box for email sign up on your registration forms, including a custom message. You can set both a global email list for people to be added to and membership specific lists. It's worth noting though that cancelled members are only automatically removed from your email list if it is set on the membership level, not the global level.
The one area that lets MemberPress down a little is content protection. Now, on the face of it this is really easy, you simply go to Rules and you set up a new access rule for your product. You can choose a variety of different types of content to protect from a drop down (including custom post types, so pretty much anything you can think of can be protected), and then depending on what you've chosen you can choose the exact page/category/post etc. This is really easy and if you're mainly using things like custom post types, child pages or post categories then you'll probably be pretty happy.
You can protect content to individual or multiple membership products, and you can also protect content to individual members as well, which may be useful if you're offering a more 1-2-1 focused membership product.

The downside is you can end up with a lot of separate Rules if you need to protect lots of single pages or have lots of different membership products. For large sites that's less than ideal and could become unwieldy, although you can select to protect all child pages of a particular page, or a complete category, so this could be a way to cut down the burden. You also can't set access levels directly on a page when creating it as you can with many other plugins, which is a bit of a disappointment.
Update: the more I've used it the less of an issue I've had with this – it's easy to protect all the child pages or posts of another page which is a good option, and actually it only takes a minute to create a new rule for any new content.
On the plus side, enabling content dripping or content expiration couldn't be easier, however if you need to drip lots of content then again you'll need a separate Rule for each piece of content that you want to drip, so again this can become unwieldy.

If you're offering multiple different membership products with different access, it can also be easy to get confused with your Rules and accidentally end up cross-protecting content and blocking access.
Integrations
Integrations are an area where MemberPress could still stand to improve, mainly when it comes to payment processors.
By default you are limited to PayPal or Stripe for payment integrations, but higher tiers also get an Authorize.net option too. For most sites PayPal and/or Stripe work fine (we use both of these with MemberPress for the Academy) but it becomes limiting if you are in a country that does not accept these options. There is currently (2018) also a WooCommerce integration in beta which could fix this problem, however it doesn't currently work for recurring payments, just one-off.
There are third-party integrations available for carts like ThriveCart, however these override the MemberPress member management features, which makes them ineffective as far as I'm concerned.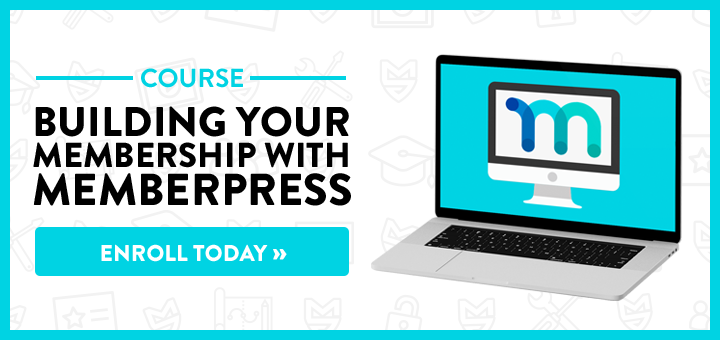 For autoresponders you have all the main contenders such as Mailchimp, Aweber, GetResponse, ActiveCampaign, ConvertKit, Drip, as well as less popular options like Constant Contact, Mad Mimi and Campaign Monitor. Note that integrations for ActiveCampaign, ConvertKit and Drip are not available on MemberPress basic tier though, and do not provide complex tagging options.
For affiliates then MemberPress comes with Affiliate Royale as part of its higher tiers (or you can purchase this separately). It also integrates seamlessly with AffiliateWP, another favourite of mine.
There is also an AWS add-on which integrates MemberPress with Amazon s3 enabling you to create expiring links to files hosted there or simply protect your files, videos and audio content, including preventing downloads.
There are also integrations available for bbPress forums, Bluberry PowerPress for creating private member podcasts, Quarderno or Avalara for more advanced tax options and other tools like HelpScout, LearnDash, and Sendy.
Not all integrations are available for all tiers, so be sure to check out their feature chart to make sure the options you need are included. There can be a hefty price jump between levels if all you need is one additional add-on.
Cost
MemberPress offers three different packages – Basic, Plus and Pro. All tiers provide the core MemberPress features, the main difference is the add-ons and integrations available and the number of sites the plugin can be licensed on.
Pricing has changed recently and at the latest update of this post (October 2018) pricing was as follows:
Basic: $129 per year
Plus: $249 per year
Pro: $369 per year
Prices only include 1 year of updates and support (a fairly standard model for membership software), so if you want to continue receiving those you will want to renew after 12months.
User Experience
The plugin generates a front-end login and account page for members, although you can override these with shortcodes if you want to customise them completely. The account page allows members to edit all their account information including password, view and manage all their subscriptions, check their payment history, and even update their credit card information (dependent on payment processor).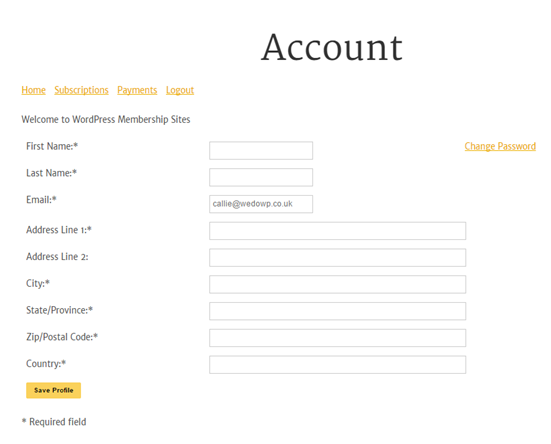 Members can also upgrade or cancel their membership directly on site, without having to contact you or go through their credit card or Paypal account. If you have the ability for pausing turned on they can do this here too.
The plugin creates your registration forms for each product too so even signing up is a pretty slick process, although the checkout pages could do with a bit of additional styling.
Overall the user experience is pretty seamless and I can't really fault it at all. The fact that it's easy to change the user journey based on membership levels by altering the thank you pages, welcome emails, after login pages and more is also a bonus.
Member Management
As you'd expect, as an administrator you can manage all your members subscriptions and transactions (members are created as subscribers) via the backend of WordPress. You can also easily resend their Welcome email or receipt if you need to for any reason, such as if you manually subscribe someone or if they don't receive the initial email.
You can cancel, pause or refund members quickly and easily (members can also cancel or pause their accounts easily from their own account page too) all from within the MemberPress tab in WordPress rather then using your payment processor.
Due to the way payments are set up MemberPress will automatically change membership access if someone upgrades or revoke access if they cancel or pause their membership. It also has inbuilt options for dealing with failed payments and expired credit cards.
Where MemberPress differs from many of the other membership plugins is with it's reporting tools, which provide you with data such as how many members you have, which memberships are most popular, how much money has been made, any refunds and even the average lifetime value of a member.  You also get a snapshot report of the last 7 days directly on your WordPress dashboard when you login so you can see at a glance how your membership is doing.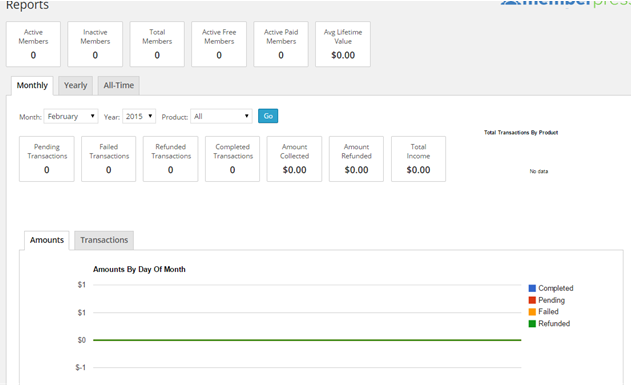 Unfortunately it doesn't automatically provide stats like churn or the number of new or cancelled members each month – I wish that it did!
Under the Members tab you'll be able however to see a list of all members on your site, their corresponding membership, membership status, number of transactions and amount of money paid, plus start and end dates. You can filter this information by specific membership levels, account status (e.g. free, active, cancelled, paused) and even payment processor.
If you're currently using another membership plugin then you can also use the MemberPress Importer to import all your existing membership details, making this much easier to manage should you want to make the switch.
Conclusion
Overall I'm quietly impressed by MemberPress and it is currently the best all round general membership plugin out there when you combine it's feature set with it's ease of use and setup.
Importantly it makes it easy for both you and your members to manage all account details, which can really cut down on support issues. And you can generally manage everything just in WordPress, no having to log into your payment provider to sort out any issues or create payment buttons.
I found it to be one of the easiest and most streamlined membership plugins to set up, and whilst it does have a lot of features most can be turned on and off with the simple click of a box rather than delving into the world of html or shortcodes. Whilst content protection/access rules are easy to set up though I can see it being problematic if you're wanting to protect a large number of single pages or drip out a lot of content.
If you want more customisation options or advanced features (like showing/hiding content on a page based on membership level) then these are available with the use of inbuilt shortcodes and the Developer Tools add-on enables advanced integrations and the ability for advanced custom development. There are also a lot of both official and third-party integrations to expand on functionality.
Overall whilst it's not a perfect plugin it certainly is one of the top tier options available, and it is in fact the membership plugin that we use for our own membership site, Membership Academy.