MemberPress Review – Updated for 2023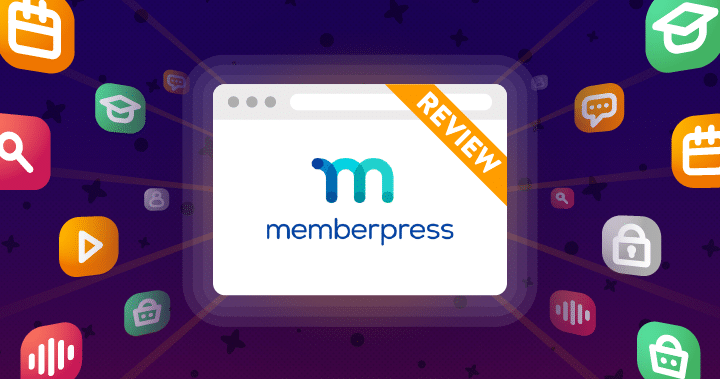 MemberPress
Mike Morrison
4.5
5
MemberPress provides an extensive feature set which is simple to use while still allowing for a high level of complexity where needed. With solid admin features, a vast array of integrations, and a lot of functionality lacking in other membership plugins, there's very little you can't do with MemberPress.
MemberPress has established itself as one of the most popular and feature-rich all-round WordPress membership plugins on the market; however does it live up to that billing in a space where the needs of the average membership website are becoming more advanced and refined?
We've used MemberPress extensively going all the way back to 2014; where it was our membership plugin of choice for our agency clients. And when we opened our own membership – Membership Academy – in 2015, MemberPress was an easy choice to power our business.
Since that time, many other WordPress membership plugins have fizzled out. Others have stayed stagnant, barely changing their featureset even in the face of an evolving market.
The good news is, however, that the MemberPress team continues to innovate and build on an already solid membership plugin with new features and improvements to meet the growing needs of the typical membership owner.
Let's dive into how well MemberPress stacks up in our full review…
Features
MemberPress has always been great at handling the very core functionality of what a membership site needs: content protection, access control and subscription management.
Content access is protected using 'Rules' under which you can fine tune precisely which content should and should not be available to which members based on a variety of criteria, with multiple options for how that protection should be applied – allowing for partial protection, paywalls or a complete shut-out for non-members.
MemberPress also allows for "drip feeding" content – whereby content is unlocked on a schedule according to when each individual member has joined. And importantly it's also easy to protect custom post types – a feature of many modern memberships, and something several popular WordPress membership plugins still fail to adequately support.
Features such as the ability to redirect members to custom dashboards after a set number of logins, as well as the option to let them upgrade, downgrade or pause their subscription as well as self-administer their account help to ensure your membership experience is on-point and user friendly.
And the built-in email reminders feature which allows you to set up and customise automated messages for key events such as subscription renewals, credit card expiry and cart abandonment is a particularly useful addition.
So much is customizable too – from supporting a variety of different payment terms including trials, joining fees and lifetime memberships; to generating pricing tables and setting custom thank you messages and welcome emails for each different membership product; to a built in coupon system that's highly configurable.
MemberPress does an excellent job of being simple and easy to use for those with straightforward needs while still packing an impressive amount of complex functionality and customization for those with advanced requirements who need to really fine-tune.
The built-in reporting is a welcome inclusion, and is something not enough membership plugins include. However the actual data given is fairly limited to basic revenue stats and is missing critical KPI's such as churn rate and more.
The already impressive feature list is further bolstered by a wide array of 'add-ons' available depending on which type of licence you purchase.
These optional additions range from quality of life enhancements such as PDF invoices through to more heavyweight functionality such as:
Online Courses: adds a fully-fledged learning management system to your site
Order Bumps: a recently released feature which allows you to add upsells and add-on products to the checkout process
Membership Gifting: adds the option for users to purchase memberships to gift to other people
Corporate Accounts: allows for 'parent' accounts which purchase memberships in bulk to grant to groups of individuals (employees etc)
And if that wasn't enough, a relatively new addition to MemberPress is their 'ReadyLaunch' tool for automatically generating key pages for your membership, including registration and login pages, a pricing page, account page and a 'thank you' page for completed signups.
While this feature represents perhaps the most ambitious and potential-laden steps towards making MemberPress a truly 'complete' membership solution; the execution is somewhat underwhelming at this early stage.
The customization options for these key pages are extremely sparse and the end result is aesthetically middling and basic. The fact these pages override the design and layout of your WordPress theme isn't ideal and makes for a jarring and awkward experience.
More ideal would be the ability to incorporate aspects of these pages – in particular the checkout layout, which is a much nicer design than the default one used outside of this feature – into regular pages created within the 'framing' of your own WordPress theme. Perhaps this is something which will come as this feature evolves.
If anything this is perhaps a nod to the fact MemberPress seems to have reached a peak for core functionality as 'just' a membership plugin. There's very little it can't do. And the future will almost certainly see more ambitious and extensive development into the sort of areas seen by additions like ReadyLaunch and MemberPress Courses.
For now though, even setting aside such broader additions, MemberPress remains best in class for core membership site functionality that's simple to use while still packing a powerful punch in terms of advanced customisation and configuration.
Ease of use
The access rules system allows for a great deal of flexibility for even the most complex offerings, enabling you to support a multitude of different membership levels and products with relative ease.
The 'Rules' system can start to get a little messy the more intricate your membership access requirements become – but that tends to be more indicative of an over-complicated business model or product design than a failing of the plugin itself.
It's hard to levy this as a criticism when many other WordPress membership plugins simply do not allow for any advanced configuration at all.
Even for features which seem like they should be complicated to set up – like complex product trials or content dripping – the process is simple and intuitive. More often than not it's a couple of boxes to be checked and you're good to go.
MemberPress products in particular are a doddle to create; and while there are a lot of little customizable details which could otherwise be overwhelming, these are well organised and tucked away enough to not be a distraction to those who don't need it.
Members, Subscriptions and Transactions are all very easy to navigate and manage; and KPI reports are clear and easy to understand. More could certainly be done in this area – there's still nowhere to find out your churn rate, for example – but what's there is still very useful.
There's even a weekly digest email which your site sends to admins automatically with a summary of your KPI performance for that week (with comparisons to the previous week).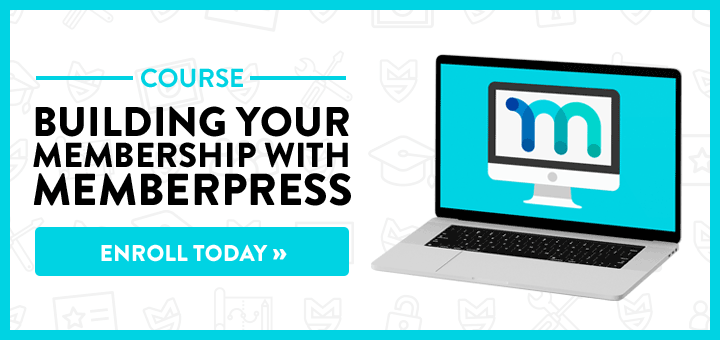 One area where MemberPress does fall down in terms of ease of use for site admins is in how the admin navigation is structured. Some options have their own section, while a bunch of others are tucked away as tabs in the generic 'Settings' section.
As you install various add-ons it can become unclear where the various bits and pieces are managed – some add a new menu section, others become a tab in 'Settings', others simply add a little extra stuff to existing sections.
This is made a little more frustrating by the fact that some links in the MemberPress admin menu are for features and add-ons you may not have even added – such as Courses and Affiliates. Of course these exist to try to convince you to buy or upgrade to these products; but if you're already struggling to find where key settings are located this just adds to the frustration. It's a minor niggle, sure, but one that's becoming exasperated with each new headline addition to the plugin.
Integrations
MemberPress have stepped their game up in recent years when it comes to broadening their integrations with other key software and services.
This comes from a combination of embracing third party integrations, continued development of their own solutions, and securing Zapier support in order to potentially link MemberPress up with thousands of other tools.
Now of course some of these integrations come with additional cost. Extended in-house integrations vary according to which licence you have, and many third party solutions (including Zapier) require additional purchases or ongoing subscription fees.
And as Zapier support is not available to those with a Basic licence, you will need to pay more to open up the integration options this provides.
For memberships, the 2 big integration concerns are email marketing services and payment providers.
On the latter MemberPress supports the two most common options – PayPal and Stripe – for every licence, out of the box. Authorize.net is only available for Pro licence holders, however.
There are add-ons available which will let you integrate with third party ecommerce systems such as WooCommerce and ThriveCart, or specialist payment providers such as PayStack (for transactions from Africa), but again some of these are third party and come at an extra cost.
A good range of basic email marketing system providers like Aweber, MailChimp and GetResponse are available on all licence levels; while more advanced services like ActiveCampaign, Drip and ConvertKit will require a Plus or Pro account. Zapier enables even wider integration and is required for the likes of Keap and Hubspot.
As for other commonly used membership tools, MemberPress is well covered with support for the community plugins such bbPress and BuddyPress, page builders like Elementor and Beaver Builder, and LMS plugins like Learndash and WP Courseware.
Plus there are options for integrating with ChatGPT, Amazon S3, Vimeo and a whole long list of other useful services that keeps growing and growing.
Overall the addition of Zapier support really does open the door to a massive amount of flexibility and support for making MemberPress play nicely with other tools you're likely to be using in order to really streamline your systems and processes.
And if that wasn't enough, for developers and advanced users there's even a Developer Tools addon which adds an API to MemberPress too.
This all does come with 2 downsides, however.
The first is the additional costs, which have already been mentioned.
And the second is that it can be pretty confusing trying to suss out whether an integration exists, how closely-knit that integration truly is, and whether you have the right licence to use it or if there's going to be extra cost involved.
You can figure all of that out without a ridiculous amount of difficulty but it does add a little extra hassle.
Cost
MemberPress offers three different packages – Basic, Plus and Pro. All tiers provide the core MemberPress features, the main difference is the add-ons and integrations available and the number of sites the plugin can be licensed on.
At the time of this review (June 2023), pricing was as follows:
Basic: $359 per year
Plus: $599 per year
Pro: $799 per year
Prices only include 1 year of updates and support (a fairly standard model for membership software), so if you want to continue receiving those you will want to renew after 12 months.
Licence prices have increased substantially in recent years. It's easy to argue that this has followed the introduction of significant new additions such as the MemberPress Courses add-on; however it's a hefty extra premium to pay for anyone not using these features.
This pricing does push MemberPress to the more expensive end of the scale for mainstream WordPress membership plugins.
You do get a lot for your money, however if you just need the basics but your email service requires an integration only available on higher levels it can feel like you're paying over the odds.
However it should be noticed that this price hike, implemented a few years ago, coincided with a big shift in marketing strategy from the MemberPress team, which makes heavy use of promotions and discounts pretty much year-round.
It makes some sense – having a product that's $200 isn't exciting, whereas having a product that's $400 reduced to $200 for the next few weeks certainly is. And unless you're like us and you pay close, continuous attention to the membership plugin market you're probably not going to see that there's always a special offer.
This is all to say you're probably never going to have to pay $799 for the Pro licence. In fact right now it's discounted to $399.50 as part of a summer holiday themed promotion.
Of course this strategy may change in the future, so take it as you will.
User Experience
From a member point of view, MemberPress makes for an extremely streamlined and simple to use experience.
For the most part it stays out of the way of your site content, but the key areas such as the account page are well organised, clear, and give members the options they need to manage their profile and subscription with ease.
Features such as custom redirects for unauthorised users; simple upgrade/downgrade paths; subscription self-management for cancelling or pausing; and custom dashboards on a per-membership basis all enable you to create an effortless experience for your members.
If you choose not to use the new 'ReadyLaunch' pages, MemberPress will automatically generate registration pages for every membership product you create; with the option to make these 2 step or single page (the former providing a less cluttered interface and allowing for better cart abandonment capture).
Login pages and account pages are also automatically generated – or you can use shortcodes to place these on any other page you'd like. Again these are simple, clear and obvious in terms of user experience.
Overall the user experience is pretty seamless and can't be faulted. The fact that it's easy to change the user journey based on membership levels by altering the thank you pages, welcome emails, after login pages and more is also a big bonus.
Member Management
As an administrator you can easily manage all your members' subscriptions and transactions via the backend of WordPress. You can also easily resend their Welcome email or receipt if you need to for any reason, such as if you manually subscribe someone or if they don't receive the initial email.
You can cancel, pause or refund members quickly and easily (members can also cancel or pause their accounts easily from their own account page too) all from within the MemberPress tab in WordPress rather than using your payment processor.
Due to the way payments are set up MemberPress will automatically change membership access if someone upgrades or revoke access if they cancel or pause their membership. It also has inbuilt options for dealing with failed payments and expired credit cards.
Where MemberPress differs from many of the other membership plugins is with its reporting tools, which provide you with data such as how many members you have, which memberships are most popular, how much money has been made, any refunds and even the average lifetime value of a member.
You also get a snapshot report of the last 7 days directly on your WordPress dashboard when you login so you can see at a glance how your membership is doing.
Unfortunately as mentioned previously it doesn't automatically provide some key stats like churn or the number of new or cancelled members each month.
Under the Members tab however you'll be able to see a list of all members on your site, their corresponding membership, membership status, number of transactions and amount of money paid, plus start and end dates. You can filter this information by specific membership levels, account status (e.g. free, active, cancelled, paused) and even payment processor.
If you're currently using another membership plugin then you can also use the MemberPress Importer to import all your existing membership details, making this much easier to manage should you want to make the switch.
Conclusion
We've updated and rewritten our MemberPress review numerous times since first publishing it in 2015, and every time we've concluded that it's the best all-round WordPress membership plugin on the market.
That's as true now as it was 8 years ago.
While other WordPress membership plugins have stagnated and others have fallen by the wayside, MemberPress has continued to evolve and innovate with the growing needs of a maturing online membership market where yesterday's impressive bells and whistles and today's bare minimum requirements.
The expansion of integrations and third party support coupled with the development of significant new features such as courses, gifting and order bumps is keeping MemberPress ahead of the curve.
And most importantly is that in the midst of continuous improvement, the core functionality of MemberPress – what it does best – has remained as solid and reliable as ever, without being muddled or messed with by the newer additions.
Simple to use yet extremely powerful and flexible; streamlined and easy to set up yet extendible in ways unmatched by any other membership plugin – there are becoming fewer and fewer situations in which MemberPress would not be the clear number one choice for building a new membership website.