Jill Stanton on Using Facebook Groups to Grow Your Membership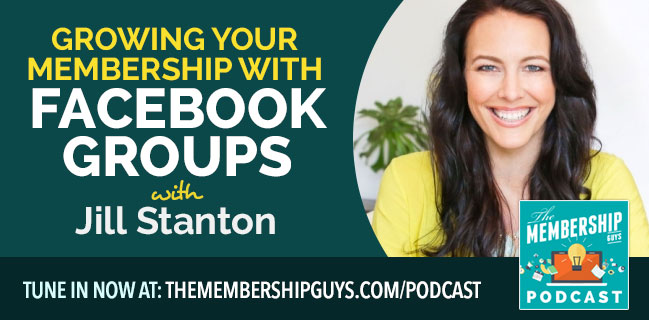 Play Podcast Episode Subscribe on iTunes
Facebook groups are a fantastic way of cultivating a community of like-minded people, all interested in a particular topic, product or problem.
It's little wonder, then, that running such a group can be a highly effective strategy for membership site owners, for a wide variety of reasons.
In this episode of The Membership Guys Podcast, I'm joined by Jill Stanton from Screw The Nine to Five, who shares her insight into not only running a popular, highly successful free Facebook group; but also how she leverages this to benefit her paid membership community.
(Warning: this one gets a little bit sweary, so those of a sensitive disposition may want to give it a miss!)
In this episode, Jill Stanton and I discuss:
Advice on how to get people engaged and active in your group
Tips and techniques for attracting new members to your Facebook group
The specific strategy that Jill uses to get people from her Facebook group to join her membership website
How Jill manages her time keeping on top of a 10,000 person strong free group as well as her paid community
…and loads more!
This was such a fun discussion, with Jill dropping almost as many f-bombs as there were value-bombs!
We've already implemented a bunch of Jill Stanton's tips for our own free Facebook group, so if you already have a group that you're not getting the most from, or you were on the fence about starting your own Facebook group; then hopefully this episode has given you some food for thought.
Thank You For Listening
We really appreciate you chosing to listen to us and for supporting the podcast. If you enjoyed today's show, please share it using the social media buttons on this page.
We would also be eternally grateful if you would consider taking a minute or two to leave an honest review and rating for the show in iTunes. They're extremely helpful when it comes to reaching our audience and we read each and every one personally!
Finally, don't forget to subscribe to the podcast in iTunes to make sure that you never miss an episode