Amy Porterfield on Using Webinars to Grow Your Membership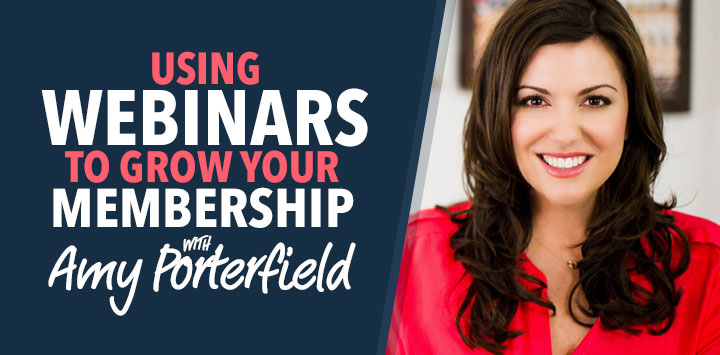 Subscribe to the Podcast Download Transcript
When trying to attract new people to your membership site, giving potential members a taste of what's on offer before asking them to part with their cash and invest in your product is a great way of overcoming any doubts they may have about joining.
With this in mind it stands to reason that hosting free webinars can be a fantastic way of winning new members by demonstrating your expertise, proving your credibility and showing why joining your membership is worthwhile.
When it comes to using webinars to sell digital products, there are few people quite as knowledgeable as Amy Porterfield. Webinars are fundamental to Amy's success, and in this episode of The Membership Guys Podcast, she shares with us her top tips and insight on how you could use webinars to promote and grow your membership site.
In this episode, Amy Porterfield and I discuss:
How to determine whether running webinars would be worth doing for your business or niche
Tactics for getting people to sign up and – more importantly – actually show up for your webinar
How you should structure your webinar to make selling your membership easier
Amy's thoughts on running live webinars vs automated ones
Top tips for making sure that your webinar actually converts
… and a whole lot more!
Find out more…
Membership Academy – Extra
Access your "Maximizing The Member Lifecycle" course in the Membership Academy.
Practical, proven strategies for improving member acquisition, onboarding, engagement and retention to help you to attract more members who stick around for longer.
Not an Academy Member? Click here to learn more
Thank You For Listening
We really appreciate you chosing to listen to us and for supporting the podcast. If you enjoyed today's show, please share it using the social media buttons on this page.
We would also be eternally grateful if you would consider taking a minute or two to leave an honest review and rating for the show in iTunes. They're extremely helpful when it comes to reaching our audience and we read each and every one personally!
Finally, don't forget to subscribe to the podcast in iTunes to make sure that you never miss an episode