Grant Baldwin on Growing Your Membership with Public Speaking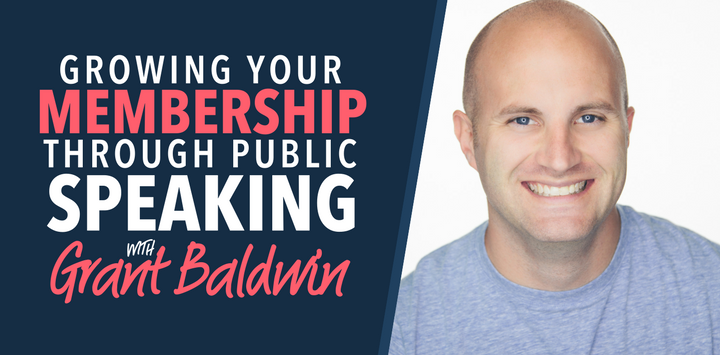 Subscribe to the Podcast Download Transcript
One of the most effective ways to position yourself as an authority in your industry is through public speaking, and done right it can be a great way to grow your membership business.
However for many the idea of standing up and speaking in front of a room full of strangers is the stuff that nightmares are made of!
And even if you're comfortable with public speaking, then there's the question of how you actually get booked, how do you make sure your presentation is good and – importantly – how do you make it a worthwhile activity for you and your business.
In this episode of The Membership Guys Podcast, we speak to Grant Baldwin from The Speaker Lab about how to get started with public speaking and use it as a platform to grow your business.
In this episode you'll learn:
Ways in which you and your business can benefit greatly from public speaking
How to actually get booked for speaking gigs, and why relationship building is key
Pointers about balancing style with substance, and how to prepare for your talks
Grant's top 3 tips for getting started with your speaking career
Get more from Grant Baldwin
Related articles about growing your audience and building your brand
Thank You For Listening
We really appreciate you chosing to listen to us and for supporting the podcast. If you enjoyed today's show, please share it using the social media buttons on this page.
We would also be eternally grateful if you would consider taking a minute or two to leave an honest review and rating for the show in iTunes. They're extremely helpful when it comes to reaching our audience and we read each and every one personally!
Finally, don't forget to subscribe to the podcast in iTunes to make sure that you never miss an episode