Email Marketing Strategy for Memberships with Rob & Kennedy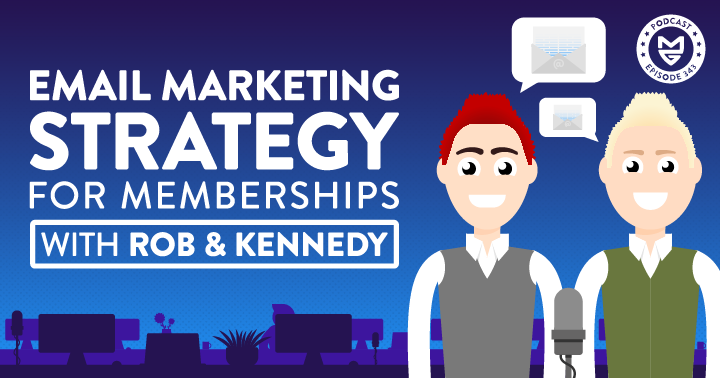 Email marketing is dead…
That's what some people say, but is this actually the case?
This is a subject that came up recently when I spoke to experts on the wonderful world of email marketing, Rob and Kennedy, founders of The Email Marketing Heroes…
It's their opinion – as well as ours – that email is still an extremely powerful tool in your marketing arsenal…
And if you utilize them in the right way, they can be your main driving source for new member sales.
But if you dive in without a proper plan, your emails could end up living in spam and the trash folder.
So how can you create a solid membership email marketing strategy that delivers results?
Rob and Kennedy – fast becoming recognized for re-shaping the way we think about email marketing – really know their stuff when it comes to this…
And they're very kindly sharing their take on the dynamics of modern-day email marketing with us!
So get your notepad at the ready to find out how you can use email marketing to grow your membership.
Let's dive in… 
Email marketing today: Where it's at
A lot has changed about email marketing over the years…
While the world has evolved in how content is consumed, some email marketers haven't quite matured with that trend. 
Sure, the marketing part of email marketing is important…
But no one wants to get tons of emails hounding them to buy, buy and buy some more.
The main thing email marketers need to peddle today is value…
Because remember, email is just another app on our phone and we need to be incentivized to open it… 
If an email provides value, then it will resonate with its audience…
And that will make them want to open the email app and read it the next time your name pops up in their inbox…
This in turn makes your audience a little more forgiving about the "peddling part."
How to increase the chances that your email will be read
It all starts with building a list of people who are actually excited to open your emails every now and then.
We need to get rid of this idea that if someone submits their name and email address to get a free lead magnet, they naturally want to receive your emails…
That's really where the system is broken… 
But the good news is that a lead magnet doesn't need to be the last resort in your entire marketing strategy.
Let's dissect what it means transactionally for a person to land on your site, get enticed by your juicy lead magnet, then put in their email address to access it.
In the website visitor's ideal world, they get what you promised and move on…  
But does that actually ever happen?
Most websites will follow up with a few emails that offer no context or value whatsoever.
The user gets these emails purely because their email address is sitting on a giant mailing list.
The way forward? 
Have a general list where you discuss the ins and outs of the product/service you offer
Have a second list that immediately builds context
What this does is welcome people into your world…
So they know where to find you online, what to expect from you in terms of email etc… 
And it gives them some background on you and your membership before you start sending out the main information i.e. the value and the offer.
It also gives anyone who's not particularly interested in what you have to offer the chance to opt out should they want to.
Email marketing: Let's talk numbers
A good place to start with this one is "quality over quantity."
Your aim should never be to 'catch 'em all', Pokemon-style…
People are on your list for a reason, so never lose sight of what that is..
It's usually because they have a problem and they believe you have the solution…  
So if you put that reason at the core of everything you do, you're much  less likely to overwhelm your audience with irrelevant content…
And keep them engaged with your emails! 
Whether you're sending emails every day or every week, you'll only hit that sweet spot if you address that core reason and provide a solid solution to the problem your subscribers are facing.
Secondly, it's important to build a relationship with your subscribers… 
This part relies heavily on psychology but works like a charm.
The truth is that if you have some sort of connection, boring subject lines or lacklustre content don't matter.
What gets emails opened (however often you send them) is that subconscious relationship between you and your audience.  
Let's talk email content
When it comes to ideas for email content, Rob and Kennedy have a bunch of different ideas and approaches to take.
Here are a few they shared:
1. Story-Lesson-Offer
Time is one of the most valuable commodities out there…
So you've got to give people fresh new reasons to read your emails… 
And the story-lesson-offer framework is one solid way to do this.
It's an easy and accessible way to connect with your audience.
Why?
The great thing about telling your audience stories is that they have emotional value and provide context.
So, when you follow up with your lesson and offer, it comes in a more meaningful package.
Unsure where to start?
Look at your everyday life and ask yourself "What was the least boring thing that happened in the last 24 hours?"
It could be anything from seeing the latest Marvel movie to buying a new mattress… 
Use this to come up with a random story that's got nothing to do with whatever it is that you teach in your membership…
But creates a connection with your readers… 
And then structure relevant, and addictive email content around it.
2. Create two different bits of conditional email content
There's no such thing as a uniform audience, and treating your email list that way is a huge mistake.
Instead of emailing everyone the same thing, send an email to non-members telling them what you offer inside your membership.
Then, send another message to existing members with information that's more relevant to them – for example, details of a particular course or forum discussion.
That way, everyone gets relevant and valuable content.
Those who are already members will know you're not trying to sell something…
And they get the satisfaction of knowing they already have it.
3. Give a weekly activity breakdown
Another great idea for content is a weekly email that shares everything you have mapped out for your members.
Is there a new course available or are you releasing a new download?
Not only is this a great way to signpost future value of your membership…
It will also go a long way to ensure that your call-to-action doesn't get bland.
With so many people out there offering solutions similar to yours, people need to know what to expect in the future from your membership so they can envision the outcome. 
Not every member will download every new resource or complete every new module on your course.
But it helps to know that new stuff is coming and that you're constantly adding value.
The follow up campaign for new subscribers
It's important to remember that people buy for different reasons… 
Some to gain something, others driven by fear of missing out on something i.e. a time-driven sale on a pair of jeans… 
So you need multiple email campaigns to appeal to those different types of buyers.
Rob and Kennedy call theirs the 'Tell Me More' campaign.
They base this campaign on certain triggers…
Specifically for those who are on the cusp of joining their membership….
So those people who've clicked onto your membership sales page a number of times in a designated time period…
Maybe 60 or 90 days…
But they still haven't joined.
Once you've identified these people Rob and Kennedy recommend that you move them into a 6 day email sequence that encourages them to join.
In this sequence, you can include things like:
Relevant case studies 
A video tour of your membership site
FAQs 
The key here is to make joining your membership site an urgent action for your subscribers…
And you do this by tailoring the content to them personally.
Ask for a reply to your email
While this isn't included in Rob and Kennedy's 'Tell Me More' campaign, it is the second highest value action that you can ask subscribers to make…
(The first being subscribers forwarding emails on to others)… 
And it should be included in your welcome sequence.
It's proof that they like you and are willing to engage with you.
Bottom line, email marketing isn't dead…
But the approach you take to your strategy makes all the difference…
There are so many wrong notions out there about what email marketing is and isn't.
A legacy communication channel…
An intrusive way to reach out to customers and so on…
But that's simply not the case.
Rob used the perfect analogy to demonstrate this point.
You're not breaking into anyone's house when you send an email…
The way he sees it, you invite subscribers into your house and it's their choice whether or not to come in and enjoy your hospitality…
In other words, they can easily unsubscribe if they don't like your frequency, tone of emails or general content… 
And this is so true!
It's all about honing in on people that appreciate what you're offering…
And continuing to deliver content that doesn't just convert, but offers genuine value.
I want to say a HUGE thank you to Rob and Kennedy for sharing their pearls of wisdom with us.
If you want to learn more about creating email marketing to promote your membership, I'd highly recommend checking out their membership The League of Email Marketing Heroes over at The Email Marketing Heroes.
You should also take a look at their latest creation Click Tricks: 12 Creative Ways to get More Clicks from the Next Email You Send.
Now if you'll excuse me, I'm off to write some emails!